Samsung HW-K950 and HW-K850 sound bars rock Dolby Atmos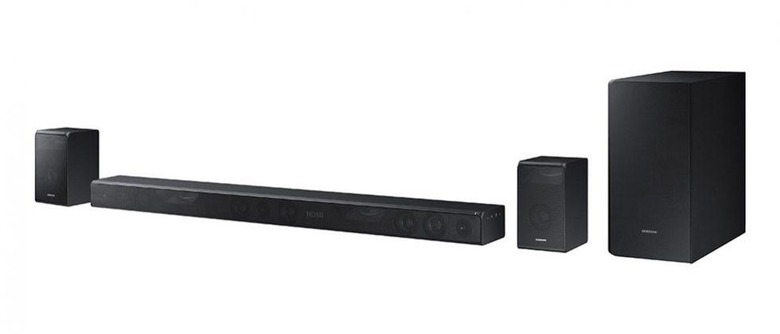 Samsung has unveiled a pair of new soundbars that are designed to bring big theater sound into your home. The sound bars include the HW-K950 and the HW-K850 and both of the soundbars feature Dolby Atmos technology inside. Samsung says that the HW-K950 is the world's first 5.1.4 playback system with 15 speakers including upward-firing Dolby Atmos enabled speakers found in the front soundbar and two wireless rear speakers.
The main difference between these two soundbars is that the HW-K850 supports 3.1.2 playback rather than 5.1.4 and a wireless subwoofer is available for both of the soundbars. Both devices also support 4K pass-through for superior audio quality and video quality via a HDMI cable.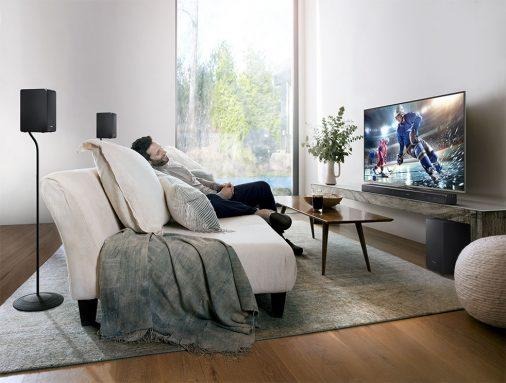 "As the availability of 4K content continues to grow, we developed a premium sound solution to complement our premium home entertainment portfolio," said Jim Kiczek, Vice President of Audio/Visual Product Marketing, Samsung Electronics America. "The HW-K950 and HW-K850 soundbars with Dolby Atmos serve as the optimal companions to our spectacular 4K SUHD television and Ultra HD Blu-ray player line-up by providing consumers with an incredible next-generation home entertainment audio experience that features powerful, room-filling multidimensional sound."
Both soundbars stand only 2.1-inches high making them fit under Samsung TVs (and other TVs) without running into issues blocking sensors or the bottom edge of your screen. Samsung TV owners can also control some functions of the soundbars directly from their TV remote. Both soundbars are also Bluetooth enabled to allow the user to stream music from their favorite device directly to the speakers. WiFi connectivity also supports music streaming via the Samsung multiroom app. The HW-K950 has an MSRP of $1499 with the HW-K850 selling for $999. Both are available at retailers around the nation right now. The big benefit of Dolby Atmos technology is that it is able to create sound anywhere in a three-dimensional space, even overhead.
SOURCE: Samsung