Samsung hints at Galaxy Note II in teaser video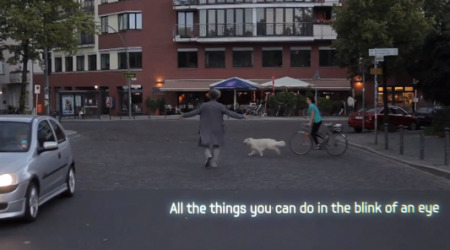 If reports are correct, then we should see the
Galaxy Note II make an appearance at Samsung's pre-IFA event on August 29th in Berlin. The company has posted a new video to its YouTube channel giving us a taste of what to expect on the fast-approaching date, and while there isn't a clear shot of any new device in the teaser, there are a few out-of-focus glimpses of what you can look forward to.
The message of the video seems to be on target with the company's general mantra, highlighting creativity and art while teasing a few shots of the S-Pen for the successor to the Galaxy Note. Samsung has even roped in filmmaker Wim Wenders to look pensively into the sky, spread his arms, and declare how so much can be achieved using a "small and light thing" in "the blink of an eye."
The very brief tease of the device itself doesn't yield any shocking revelations. There will be a slot for the S-Pen on the device, just like the current Note, and it looks like Samsung is once again planning to offer the device primarily in white, just like the Galaxy S III and Galaxy Note 10.1. The silver trim around the edge of the device looks to have made a return, and the chassis might even be a tad curvier, but it's not entirely clear from the video.
Reports have suggested that the Galaxy Note II will feature a quad-core Exynos processor clocked at 1.6Ghz to go along with the 5.5-inch Super AMOLED HD screen. Leaked benchmarks have suggested that the device will have a 1280x720 resolution, marking a shift to 16:9 and away from the 16:10 used on the current Note. The Note II is also expected to have 2GB of RAM, an eight megapixel camera, and a refined design that will fall in line with the Galaxy S III.
[
Android and Me]