Samsung HD CMOS webcam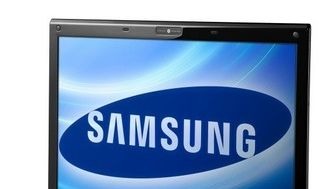 We may receive a commission on purchases made from links.
Samsung have unveiled a new high-definition webcam small enough to be embedded into the bezel of a notebook or LCD display.  The new 1/4-inch S5K4AW CMOS chip has 1.2-megapixel standard resolution, and is capable of recording 1280 x 960 video at 30fps or 640 x 480 video at 60fps.  It also boasts improved low-light performance, though at the expense of image quality.
According to Samsung, most embedded webcams are optimized for still image capture, despite generally being used for video.  Even though the S5K4AW sensor is slightly lower in resolution than the 1.3-megapixel cameras found currently in many notebooks, video performance is reportedly much improved. 
It also uses a process called 2x2 binning which allows adjacent pixels to combine their data, meaning VGA captures are just as large as HD ones and light sensitivity is 3x the amount in rival sensors.  Samsung are currently sampling the sensor to OEMs, with mass production expected in the first half of 2009
Press Release:
Samsung Offers New PC Camera CMOS Image Sensor

System-on-Chip for Real-time HD Video

Seoul, Korea, Dec. 5, 2008 – Samsung Electronics Co., Ltd., the world's leader in advanced semiconductor solutions, announced today that it has expanded its industry-leading portfolio of CMOS image sensors to include a new high-definition 1/4-inch, 1.2 Megapixel (Mp) system-on-chip (SoC) imager, the S5K4AW, for notebook and desktop computers. Developed with a strong focus on real-time high-definition (HD) video capture, Samsung's new S5K4AW sensor has immediate applications in areas such as business video conferencing, Internet video sharing, direct to web scanning, biometrics and security.

"The notebook and desktop PC market requires an image sensor solution specifically optimized for video," said Dr. Yiwan Wong, vice president of marketing for Samsung Electronics' System LSI Division. "For PC users, the main concern of an embedded camera is video, not still image capturing. We're addressing this nuance with our new CMOS image sensor SoC that has been completely designed, and performance optimized, with high-definition and VGA video in mind."

Instead of developing a sensor with 1.3Mp, which is better suited for still image capture, Samsung's new S5K4AW CMOS image sensor SoC addresses the specific needs of HD video applications. By incorporating a technique called binning in 2×2 pixel groups, the S5K4AW's 1.2Mp resolution (1280×960 pixel format) also can display standard VGA format without the need for cropping. In doing so, Samsung has eliminated the annoying problem of losing the top or the bottom of a scene while video conferencing or video file sharing on social media networks such as YouTube.

Real-time video capture presents other challenges for sensor designers, including how to deal with low light sensitivity. The same binning technique used by Samsung's new S5K4AW sensor for video resolution also significantly improves the imager's sensitivity to low light. The industry's typical method of binning results in an improved sensitivity of approximately 1.2x. Samsung's breakthrough in binning shows a sensitivity improvement of nearly 3x. This is critical when the only illumination on the scene might be from the computer screen itself.

"Embedded display cameras are rapidly becoming a standard feature for PCs and notebook computers," said Bob O'Donnell, program vice president, clients and displays for IDC. "With the move to wide format displays, HD video is coming to the PC, making HD formatted cameras developed specifically for this market standard as well."

By focusing its image sensor expertise in the PC imaging market, Samsung has designed the new S5K4AW imager as a 1/4-inch SoC that uses a 2.8um pixel size, supports 720p HD video at 30 frames per second, and captures VGA video at up to 60 frames per second.

Samsung is currently sampling its S5K4AW CMOS image sensor SoC to select customers. Mass production is expected in the first half of 2009.