Samsung Gear S3 "Solis" will unsurprisingly run Tizen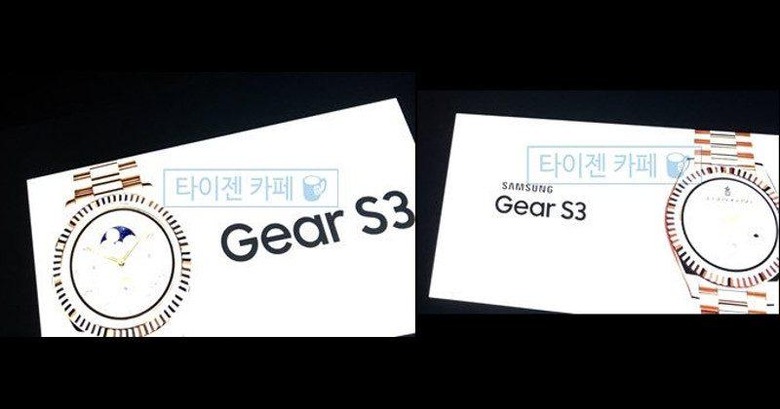 Early this month, Samsung revealed the Gear Fit 2 alongside a curious Gear IconX earbuds. That would have probably raised questions on whether Samsung also has plans for that other kind of wearable device. Of course it does, and it even has a codename for it. Dubbed "Solis", the smartwatch will most likely be named the Gear S3 after its predecessor. And like its predecessor, it will be running on Tizen, which raises questions on Samsung's actual commitment to the Android Wear platform.
The name "Solis" could be interpreted to mean a good many things. From the word for the "sun", the implication is that it will be a round-faced smartwatch once again. It's almost inconceivable that Samsung would return to a blocky design after the relatively higher success rate of its Gear S2. A rotary dial is probably also already in the books.
The name might also be a hint towards its design, at least based on this pair of leaked photos. The very premium looking watches do seem to have bezels that resemble the sun's rays. There are some, however, that are calling this leak a hoax, considering how it looks too similar to an actual existing, not to mention very expensive, timepiece that has nothing to do with Samsung or smartwatches for that matter.
This leaves the door open for possibilities, as well as questions. At this point, it isn't exactly clear what improvements can still be done on smartwatches to actually make them more appealing, especially when it comes to hardware. The lack of innovative new designs and features is perhaps telling of how the market has quickly become a competition over larger and faster. It seems that the race might switch over to platform really soon.
That the Gear S3 would be running on Tizen is really no surprise, but the news does come at a time when Samsung's motives for that OS is being put under a microscope. Rumors are surfacing again that the Korean manufacturer is eying moving its whole hardware portfolio over to Tizen, which is perhaps easier now that there are extremely few members of the Tizen Alliance left. Samsung earlier stated that it hasn't changed its commitment to smartwatch platforms, but the lack of a new Android Wear Gear weighs heavily against it.
VIA: SamMobile
VIA: @esse1000k