Samsung Gear S3 smartwatch to bring rotary bezel in September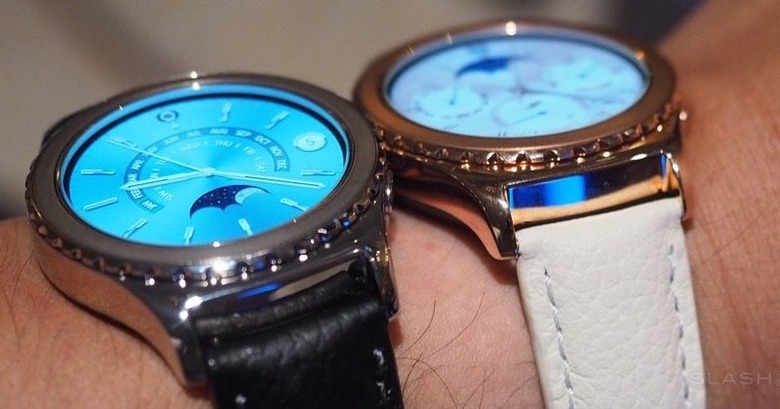 While Samsung is eying a very early launch for its next Galaxy Note phablet, it doesn't seem in a rush to do the same for its next Gear smartwatch. Dubbed the Gear S3, because what else would you call it, the company's next high profile smartwatch isn't expected to debut to the public until September, during its usual IFA affair. And when it does, it will be sporting the same rotary bezel control that put Samsung's smartwatch back on the "interesting" map, enough to warrant a successor.
There hasn't exactly been much innovation in terms of controls for smartwatches. After all, how far can you get with a tiny frame that can accommodate at most only three buttons (six if you're pushing it). Apple added a crown that could be rotated to control things. Naturally, Samsung added something that could be rotated as well, but opted to go for the bezel, which is, admittedly, easier to grab than a tiny crown.
But what else can be expected of the Gear S3? Based on the name, it will have the same standalone functionality as the Gear S2, which is to say, the ability to connect directly to the Internet without the mediation of a smartphone. Again, based on the name, it will be running on Tizen OS. While Samsung says it hasn't discounted the idea of an Android Wear smartwatch, it has yet to actually come up with one to succeed the Gear Live.
There also hasn't been much development in the smartwatch hardware front, though both Qualcomm and MediaTek have put out more wearable friendly processors. There hasn't been any clamor for oodles of RAM and storage on smartwatches either, though battery life and display brightness still remain the biggest concerns.
It will be interesting to see if Samsung can breathe some new life into the smartwatch market, which hasn't exactly seen much action of late.
VIA: SamMobile