Samsung Gear S3 pre-order and release details revealed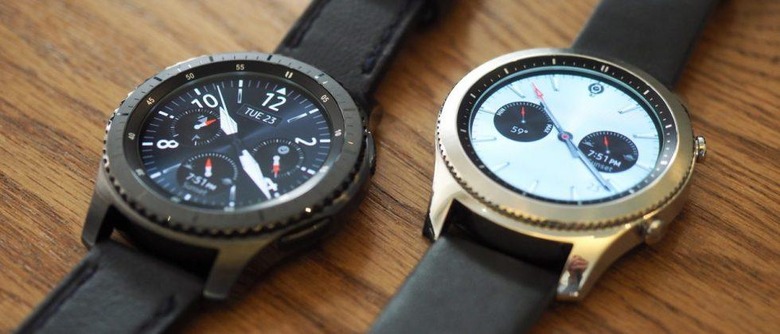 Those of you who have been waiting since August to get your hands on Samsung's Gear S3 will soon get your chance. Samsung has announced pre-order and availability details for the Gear S3 today, revealing that the smartwatch will make it store shelves later this month. Pre-orders open up on November 6 as well – just three days from today.
Then, prospective buyers will have less than a two week wait before the Gear S3 arrives, with Samsung launching the device on November 17. Like the Gear S2 before it, the Gear S3 will come in two varieties. These models are named the "Frontier" and "Classic," and the differences between both are fairly straightforward.
While both feature the same CPU, RAM, battery, and sensors, the Gear S3 Frontier will ship with support for 4G LTE networks. The Gear S3 Classic, in comparison, will only have Bluetooth and WiFi as its connectivity options. If you want one to use on your wireless provider, in other words, the Gear S3 Frontier is the one you'll need to buy.
READ MORE: Samsung Gear S3 hands-onSamsung says the Gear S3 starts at $349, and we can assume that's the price for the Classic variant. The Classic model will be sold through retailers and Samsung directly, while AT&T, Verizon, and T-Mobile will carry the Gear S3 Frontier. Samsung said in its announcement today that carriers will announce their own availability and pricing for the smartwatch soon.
Of course, the Frontier and the Classic also look different, with the Frontier being the more rugged device of the two. Though they share the same dimensions, the Frontier weights slightly more than the Classic. Regardless of the model you choose, the biggest feature of both is likely the inclusion of Samsung Pay, which takes advantage of built-in MST and NFC support.
We'll have more on the Gear S3 as we get closer to its November 17 release date. For now, those who know they're interested in picking one up will be able to pre-order the device through Samsung.com starting on Sunday, November 6.