Samsung Gear S Flaunts Swarovski Studded Strap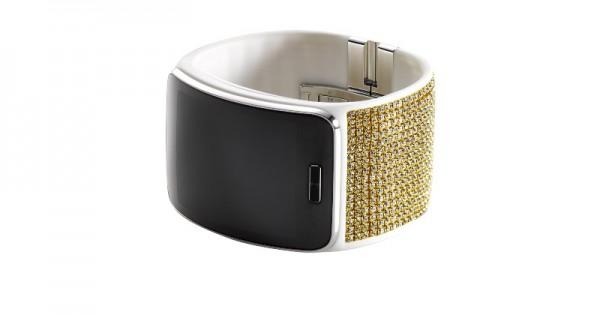 Samsung's products are no stranger to crystal-studded accessories bearing the illustrious Swarovski name, so this latest addition is definitely not surprise. With this new Gear S Strap, socialites and fashionistas who wouldn't want to be caught dead wearing a geeky looking piece of technology now have a new option available to them.
Samsung and Swarovski have an on-going relationship, aptly called "Swarovski for Samsung", that has seen the launch of several luxurious accessories for a number of the manufacturer's devices. The latest was naturally designed for Samsung's latest flagship, giving the Galaxy S5's rear a more extravagant appearance, in contrast to the ridiculed "band aid" look that it had by default.
In a sense, this Swarovski Gear S Strap is no different, littering the new smartwatch's strap with fine crystals, except for one technical factor. The strap, says Samsung, utilizes Swarovski's new product called "Crystal Fine Mesh", which just debuted in July this year. With this product, Swarovski is able to embed crystals directly into a metal mesh of chatons that can then be placed on more flowing or pliable material to make them the ultimate fashion statement. Although already used by some of the top fashion brands, this is the first advertised application of Crystal Fine Mesh on an electronic gadget.
This limited edition Gear S Strap will be available from Samsung's online store starting October. Naturally, no price has been given yet. Samsung also hints that its next flagship, which would refer to the upcoming Galaxy Note 4, will also get a Swarovski back cover soon.
The Gear S smartwatch, by itself, is already quite notable even without the luxury strap. It adds its own 3G connection. releasing it from the tethers of a companion smartphone and allowing users to take and make calls directly on the smartwatch. Of course, it runs on Tizen OS, which is sure to ruffle Google's feathers even further. The Gear S will be making its public debut at IFA 2014 and will undoubtedly be billed as the perfect partner, despite being independent, for the Galaxy Note 4.
SOURCE: Samsung