Samsung Gear Fit Review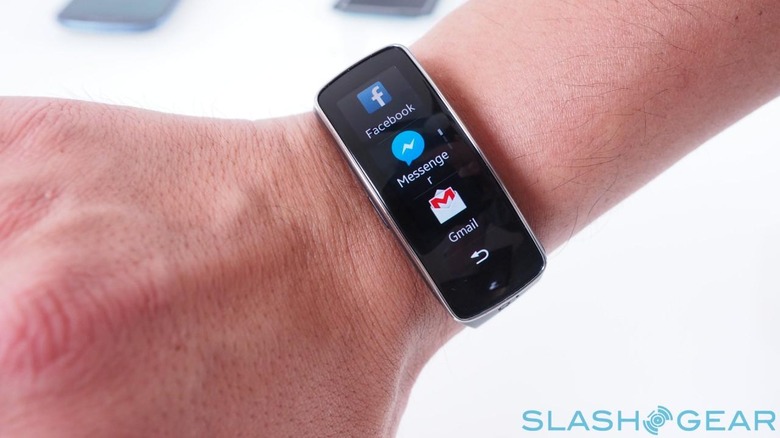 The Samsung Gear Fit is very close to being a concept brought to life. With its shard of curved full-color AMOLED touchscreen and unusually narrow design, the smartwatch/fitness band hybrid is certainly eye-catching – the number of people who've spotted it on our wrist and asked about it is proof of that – but does the functionality and usability match up? Read on for the SlashGear review.
Hardware and Design
Samsung revealed the Gear Fit as part of a trio of wearables back in February, but while it's actually the least flexible of the three, it probably garnered the most lust thanks in no small part to its curved display. Flexible AMOLED is still a rarity outside of concepts and demo-only prototypes, so while the Gear Fit's touchscreen may only follow a mild curve, that's still enough to make it unusual.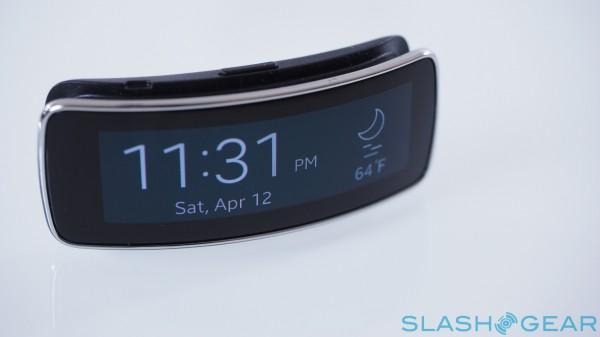 It's helped by the fact that it's bright and beautiful, too. Size-wise it's 1.84-inches, though the rectangular shape – 432 x 128 resolution – makes it atypical. The vivid colors we've come to associate with AMOLED are in full effect, and it's clear even in daylight when at full brightness.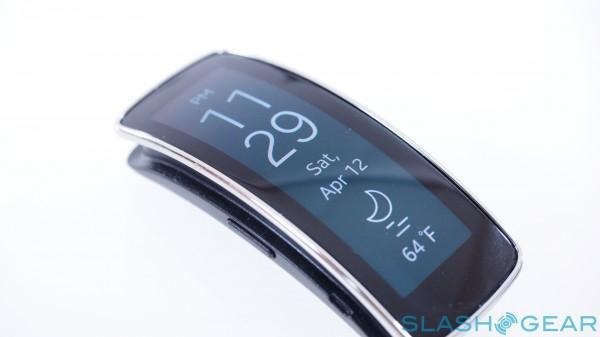 Physical controls are limited to a button on the side, which turns the display on, and can optionally act as a shortcut to a specific function. Alternatively, an accelerometer automatically activates the Fit when you lift your arm, though we found it could be a little sluggish to react at times. Unfortunately there's no always-on time display; we wish Samsung had done something like Nokia's Glance on its Lumia Windows Phones, where a faint clock is perpetually visible while in standby.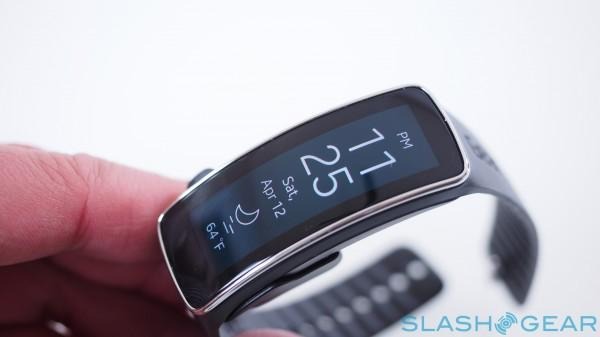 The Fit unit itself is a somewhat thick little lozenge of black and silver plastic, slotting into a rubberized band. By making it interchangeable, you can switch out the colors depending on the rest of your outfit; Samsung will offer black, gray, blue, green, red, and orange, at $24.99 a pop. They're comfortable and, unlike some rubber-strapped fitness trackers we've tried, doesn't demonstrate a tendency to pop open.
Underneath there's a heart-rate sensor – more on which later – and a row of four contacts for the charging dock, which hooks the Gear Fit up to a microUSB AC adapter. Forget that dock and you won't be able to recharge, since it's a proprietary connection.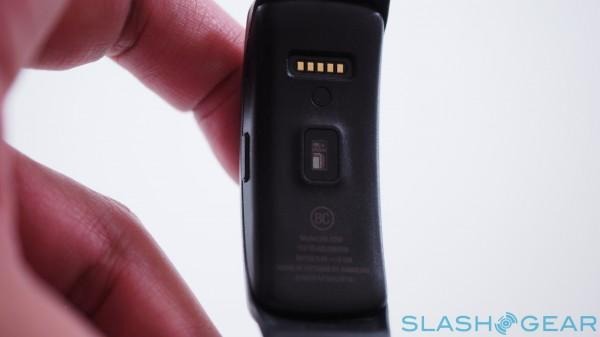 Like the Samsung Galaxy S5, the Gear Fit meets IP67 standards for resilience to water and dust, capable of being submerged at up to a meter in water for as long as thirty minutes. We found this was particularly useful to get notifications while in the shower.
So far, the Bluetooth-tethered Gear Fit will only work with a selection of Samsung phones and tablets. At the moment, that list comprises the Galaxy S5, Galaxy Grand 2, Galaxy Note 3, Galaxy Note 3 Neo, Galaxy Note 2, Galaxy S4, Galaxy S3. Galaxy S4 Zoom, Galaxy S4 Active, Galaxy S4 mini, Galaxy Mega 6.3, Galaxy Mega 5.8, Galaxy Note 10.1 (2014 Edition), Galaxy NotePRO (12.2), and Galaxy TabPRO (12.2/10.1/8.4).
Software
We said the Gear Fit was less flexible than its Gear 2 and Gear 2 Neo siblings, and the most conspicuous reason is its OS. Whereas the smartwatches each run Tizen, the Fit has a proprietary OS pared down to maximize battery life.
That means, while third-party developers can already download the Tizen SDK and start building apps for Gear 2, they can't do the same for Gear Fit. That arguably makes it the feature-phone of wearables, though out of the box there's still a fair amount you can do.
Navigation through the menu structure is by a combination of taps and swipes, with the Fit usually showing a single row of icons that are sized well for a fingertip. Although Samsung originally showed it with only a horizontal UI, and swiftly came in for criticism because of it, a subsequent firmware update added a vertical mode, which is far easier to read while on the wrist.
Usually, you get the current time and date, as well as the weather, though a count of steps or the next entries in your calendar can be optionally shown instead. Swipe through, and you find menus for fitness functionality, notifications, media control, settings, Find My Device, and finally the timer, stopwatch, and sleep mode.
Samsung's default wallpaper shows off the AMOLED panel well, though we quickly switched over to a slightly more subdued black background. There are various presets to choose between – controlled by Samsung's Gear Fit Manager app, which also allows you to adjust the order of the menu structure, pick a weather location, and change sync frequency.
Notifications
By now many of us have a near-Pavlovian reaction to our smartphone beeping or buzzing, so there's something liberating about being able to spring into action from our wrist.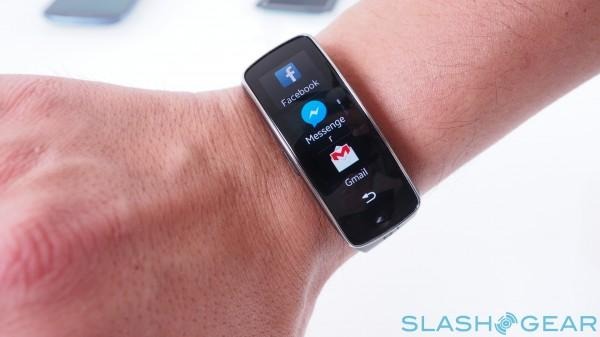 The core focus is calls, emails, calendar appointments, alarms, and alerts from Facebook and Twitter messages. Previews scroll across the display, and you can respond to texts or reject calls with a preset message. Unfortunately, despite Samsung having S Voice on its recent phones and tablets complete with voice recognition, there's no support for dictating a custom reply.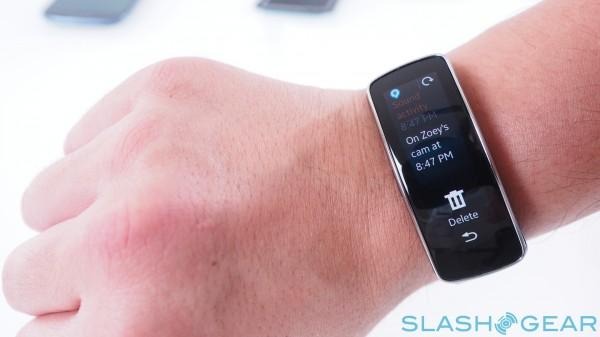 With the Gear Fit Manager, meanwhile, you can optionally turn on notifications from any app on your device. Unfortunately, if you're a keen smartphone user you might find your wrist going crazy with vibrations and pings: it's an all-or-nothing approach, with no possibility to filter only VIP contacts or specific alarms.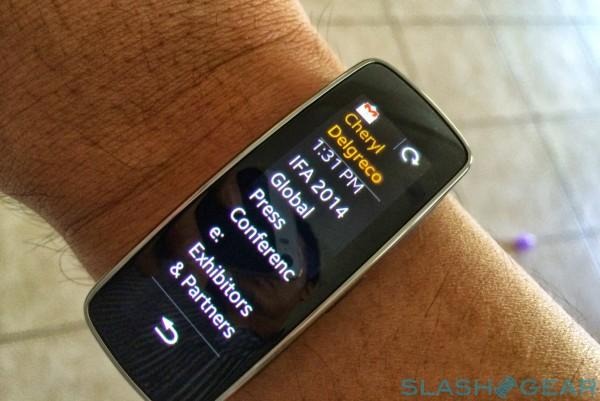 Happily, the vibration motor itself is relatively discrete: we were able to sit near someone and get notifications without them being disturbed by the sound of the "silent" alert. That's not something every smartwatch can boast.
Heart Rate Sensor and S Health
With "Fit" in its name, you'd expect this smartwatch to have some health focus, and sure enough there's a heart-rate sensor integrated on the underside. Just as on the Galaxy S5, the idea is to take regular readings and collate them in the S Health app on your device, only rather than having to take out your phone and press your fingertip to the back, the Gear Fit is permanently on.
While that's great in theory, in practice it's not quite such a smooth process. Biggest issue is making sure there's a good line-up between the sensor on the Fit and the right spot on your wrist, something we had a mixed track-record with. Then comes the fact that you have to be standing perfectly still, else you get a scolding message on the display and no pulse count.
Perhaps it's that misalignment, but we saw some concerning inconsistencies with what readings we eventually got, too. Often the Gear Fit would under-count our heart-rate.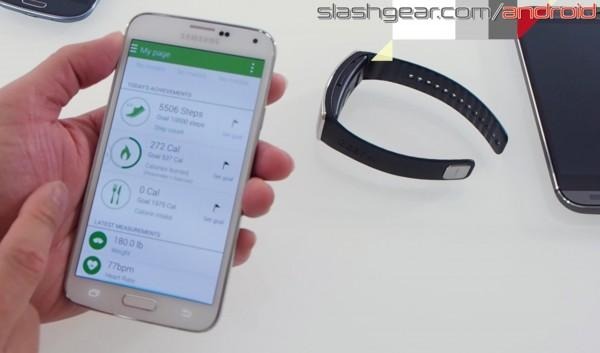 S Health collates the pedometer count from the Gear Fit, as well as pulse, and then allows you to manually log your diet. You can also switch it into cycling mode, though since that relies on GPS – from the tethered phone – to track your movement it's no use if you're on a stationary bike at the gym. Similarly, GPS is used for tracking runs and hikes.
Actually making sense of those logs is more cumbersome than, say, the apps Fitbit and Jawbone offer, and there's minimal context made of the numbers to actually encourage behavioral change to make you more healthy. A coaching service triggered through S Health prompts you to stay in the optimum exercise zone with alerts and vibrations on Fit, though since it's based in part on the heart-rate sensor it sometimes got confused.
Sleep Tracking
Sleep tracking is a more recent addition to the Gear Fit, landing in the latest firmware update. It's also considerably more rudimentary than what we've seen on dedicated fitness bands like UP24, effectively showing you how long you were asleep for, and how much of the time you were lying still.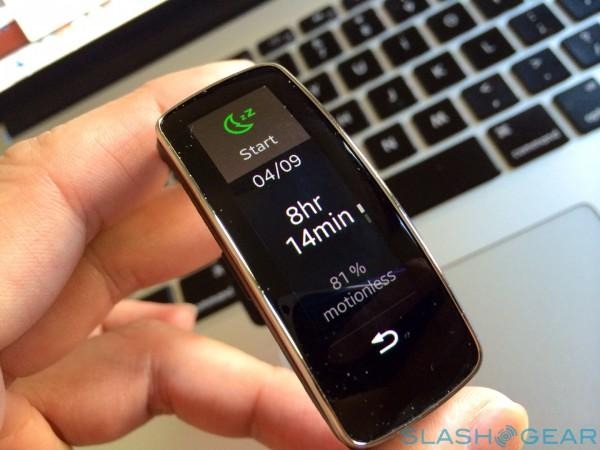 There's no tracking of light and deep phase sleep through the night, and no suggestions as to what you might want to do to improve the quality of your sleep overall. Neither can you set sleep-phase linked alarms, which on other wearables promise to wake you at the optimum time.
Happily, putting the Gear Fit into sleep mode automatically mutes notifications and alerts, though you need to remember to manually enable and disable it when you go to bed and then get up in the morning. We also found the Fit, being somewhat more bulky than most health wristbands, could be noticeable while we were trying to sleep.
Media and Find My Device
The Fit itself doesn't work as a media player, but it can be used as a shortcut for controlling whatever is playing on your phone or tablet. You get the basics – play/pause, track skip, and volume – on your wrist, and thankfully it's not only compatible with Samsung's own music app. Whatever is playing gets controlled, whether it's Spotify or the regular Android media software.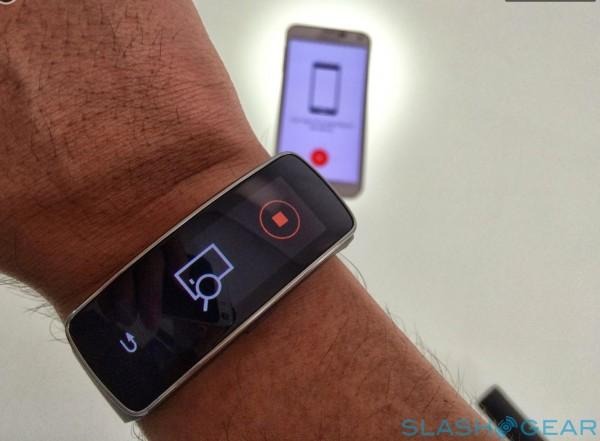 As for Find My Device, if you've lost your phone down the back of the sofa, or the dog has made off with your tablet, hitting the button on the Fit will cause it to ring. It's useful, but there's no option to have it automatically triggered if you move beyond Bluetooth range with your device.
Battery
Samsung claimed the proprietary OS was to help reduce power consumption and give the Gear Fit up to four days use from its 210 mAh battery. In practice, we've been getting about half of that; you can prolong things by turning off notifications, but that seems like a compromise too far given half of the purpose of the band is to show them.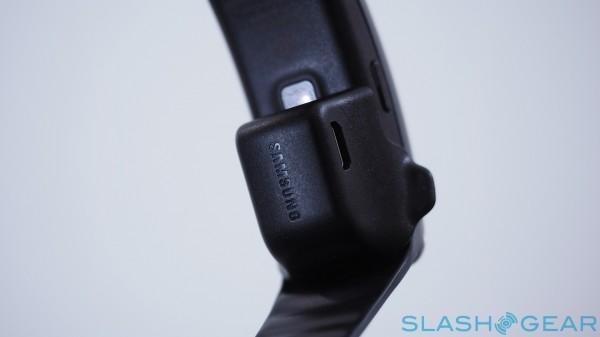 In contrast, we get around a week from Jawbone's UP24, while Pebble runs for 4-6 days on a charge. There's a penalty to be paid for that bright AMOLED panel.
Wrap-Up
Samsung's Gear Fit leaves us torn. On the one hand, it's the most space-age and glamorous of the wrist-worn wearables we've tested so far, with the genuinely pleasing curved AMOLED display seeing us tapping and swiping for their own sake. It makes Pebble look pedestrian, and the not-quite-a-watch aesthetic means you can wear Fit on one wrist and a regular watch on the other, and not look like you're doubling up ridiculously.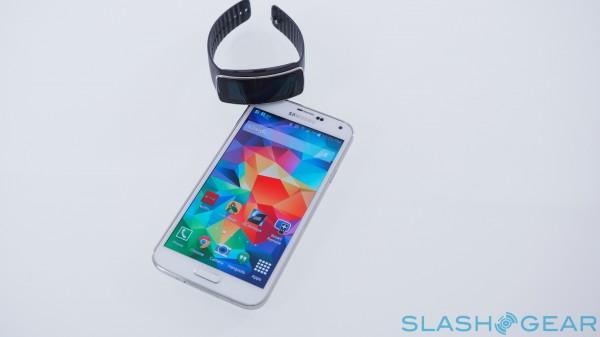 On the downside, however, is the price – a hefty $199 – and the sometimes half-baked functionality. Notifications are great, but we'd like to see ways to filter and finesse them; the heart-rate sensor promises plenty, but is finicky. S Health has potential, but right now is rudimentary in its UI and lacking in making contextual sense of the data it collects.
Software updates could well address much of that, and Samsung's swift addition of a vertical display mode shows that it's not afraid to push out patches in short order. Still, limited compatibility with only a subset of Samsung's own devices, software that's not quite ready for primetime, and the looming specter of not only Android Wear devices like Motorola's Moto 350 but the much-rumored Apple "iWatch" mean waiting to see quite how much the Gear Fit can be refined is the sensible option for most.
Be sure to visit SlashGear's Wearable hub for more product news and reviews.