Samsung Gear Fit 2, Gear IconX Hands-on: Putting fitness at the top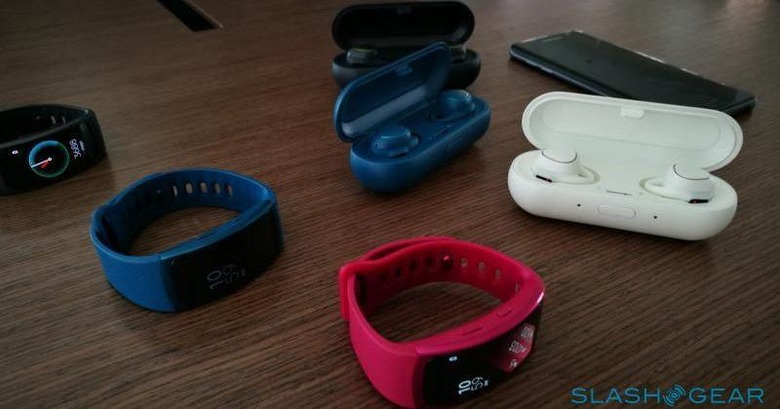 Although smartwatches are relatively slower to gain traction, the fitness wearable market has exploded in the past year or two. Almost anyone and everyone has a fitness tracker, whether a smart wristband or a clip, or both. And those that don't fall back on their well-equipped smartphones and some tracking app. Gym memberships, racing events, and fitness device purchases all reveal a growing fad, if not obsession, over fitness. Not one to be left behind, Samsung is showing off the new, improved, and more ergonomic Gear Fit 2 sports band as well as the intriguing Gear IconX "fitness earset" to keep you company in your journey to a healthier, yet hi-tech, lifestyle.
The Samsung Gear Fit 2
As indicated by the number, the Gear Fit 2 is the successor to the first Gear Fit launched two years ago. Calling it simply a successor or an upgrade, however, would be a bit of a injustice. Although it doesn't get a complete overhaul, Samsung implemented substantial changes both inside and out, refining what was already a popular smart fitness band.
The biggest internal change is the addition of a standalone GPS. Other fitness trackers, especially those attached to a smartphone, usually depend on that smartphone for location data. With its own GPS, the Gear Fit 2 becomes independent. Not only that, it also becomes more accurate, as it can track not just distance but even your pace. All of these come with a what Samsung describes as "really cool" visualization, putting your tracks and paths on a map for record keeping, and maybe a bit of boasting as well.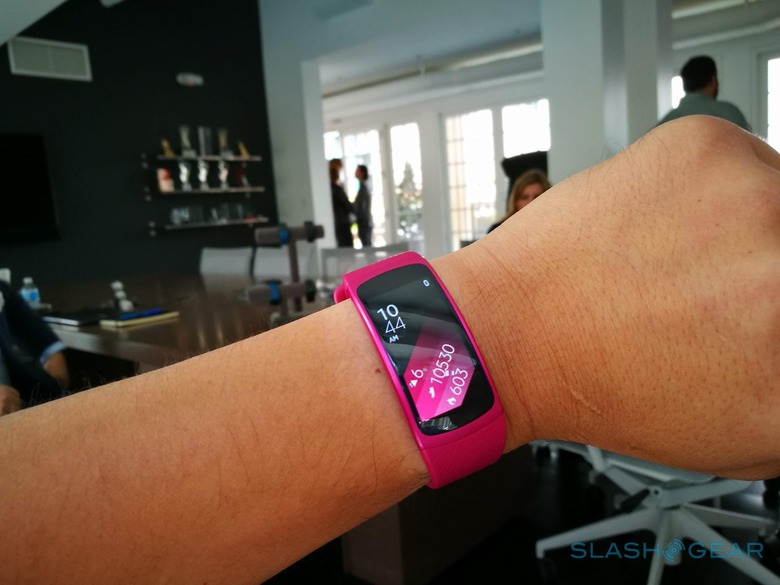 The latest Gear Fit also features automatic activity tracking. Through its various motion sensors, it can determine when you've started an activity, which kind of activity, and when you've stopped. It can differentiate from running, biking, and, well, sleeping. All of these data, including those from the GPS as well as the day's weather, are easily accessed and seen in instant feedback that offers quick snapshots of different stats, which users can cycle through by swiping left and right.
Design-wise, Samsung implemented some changes based on users' biggest wishes regarding ergonomics. For example, the Gear Fit 2 comes with a wider 1.5-inch AMOLED display. What this means in practice is that you can view the full horizontal data without having to dislocate your wrist. The curvature has also been increased to follow the contours of the wrist better. Despite the additional components and increased display size, the Gear Fit 2 remains lightweight at only 33 grams. It is also IP68 rated, which makes it safe from quite some water and dust.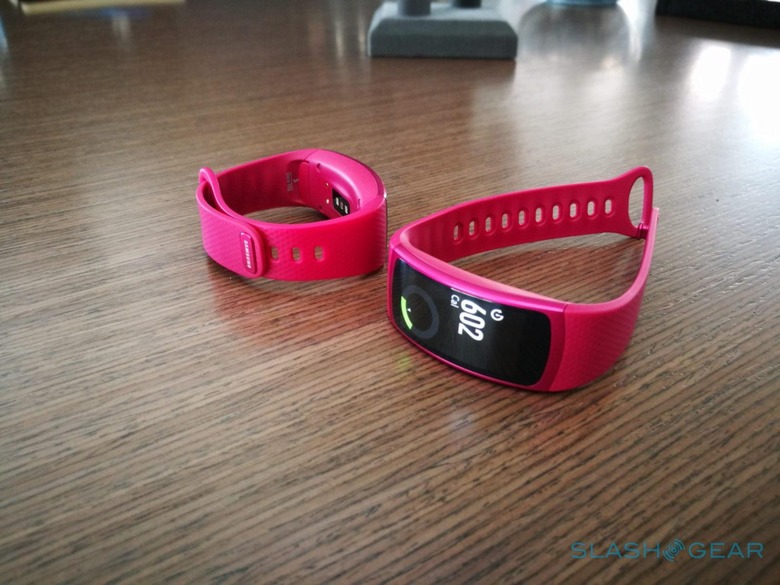 Two important new features of the Gear Fit 2 is connectivity and music. Fitness is no longer simply a personal matter, though it can pretty much be such. Additional motivation, inspiration, and challenges can also come from others in your social circles, be they family or friends. Sometimes, even a bit of competitiveness can go a long way in helping your reach that last mile. Part of that connectivity also includes connecting with the smartphone in your pocket or on your arm. Aside from receiving "one way" notifications from Android apps, the smart sports band now also lets your reply to messages or reject calls with a predefined response, or even an emoji.
Music can also a well known booster. The Gear Fit 2, via the smartphone, can stream music from any service, be it Pandora, Amazon, Google Music, or Samsung's own Milk Music. Samsung also struck up a partnership with Spotify to design an app that is tailored and optimized for the Gear Fit 2. But if you want to be offline, the band also has 4 GB of storage space to use. In fact, that way saves up on battery. The Gear Fit 2 lasts 3 to 4 days of typical with an average workout schedule. On standby or with simple steps tracking, it can last for 5 days or more.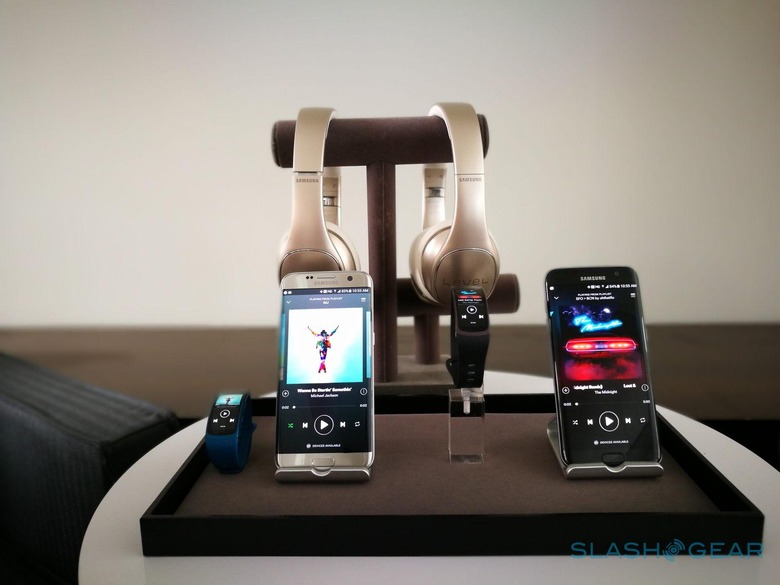 The Samsung Gear IconX
Completely new to Samsung's Gear family is the IconX. While they might simply look like stylish Bluetooth stereo earbuds, Samsung refers to them as "cord-free fitness earsets" and they are definitely in a league of their own. The high quality earbuds do function each as a Bluetooth headset but also serves as fitness trackers in their own right, providing activity tracking and fitness data even without a matching smartwatch or smartband.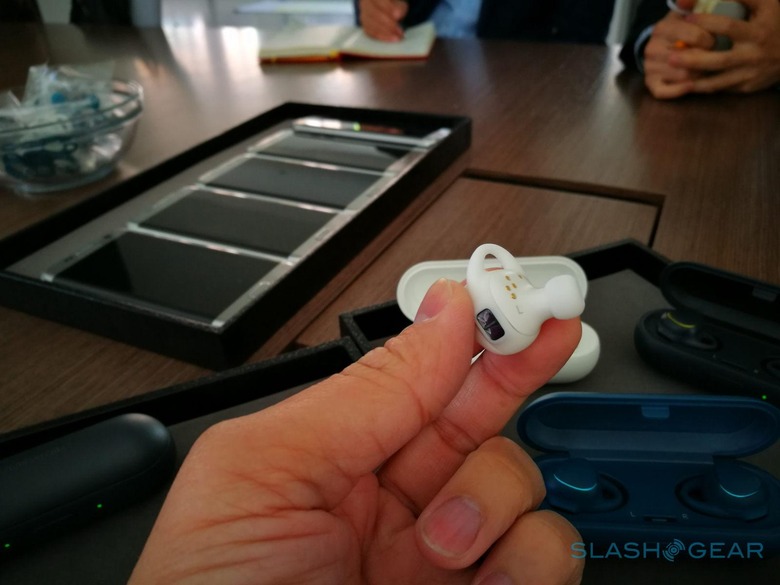 Yes, the Gear IconX is a fitness tracker. Although it lacks the standalone GPS that the Gear Fit 2 has, it does have sensors of its own. It even has a heart rate monitor, which probably few or even no earphone has. That heart rate sensor serves a dual purpose of keeping track of your heart as well as determining whether the earbuds are in the ear and therefore need to turn themselves on.
The Gear IconX is just as interesting as a Bluetooth headset. Or actually headsets. While each piece do work together, they can also function on their own without the other, and all of it working magically for the user. When streaming audio from a paired smartphone, both pieces receive their own copy of the audio, playing in a stereo configuration over a completely wireless connection. But one can also just use one piece while the other charges in its case.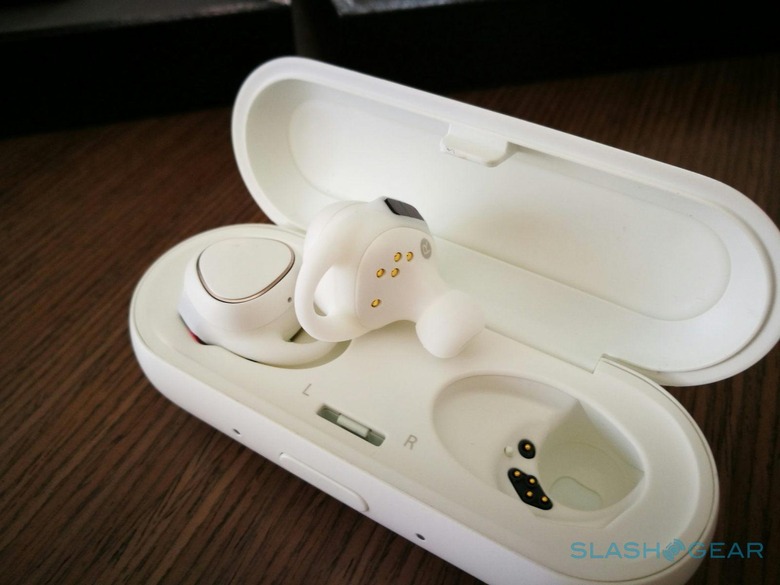 The two have a sort of master-slave connection, but the distinction is really more technical and should be of little concern to the user. The master is simply the earpiece that receives the voice call and controls the other piece. The master is chosen automatically, whichever of the two you touch, or manually through the Gear Manager app. The Gear IconX is controlled purely through a touch sensitive area on both earpieces. A single tap automatically starts playing music while two taps skips to the next track. Three taps lets you repeat the currently playing song, while a tap and hold lets you cycle through the menu, releasing the hold to select the current item. Adjusting the volume is a simple as sliding your finger up or down.
In terms of performance and design, the Gear IconX is as Samsung promised. They are ergonomic and fit quite comfortably. It has two types of wing tips and three ear gel sizes to support as many kinds of ears as possible. Connection goes as far as 30 feet without interruption and with good quality. Like the Gear Fit 2, the Gear IconX can play music streaming from a paired smartphone but it can also be used by itself, storing music in the on-board 4 GB space. In streaming mode, the earset lasts only 1.5 hours, but standalone it can go for as much as 3.6 hours. Its carrying case also doubles as a charging cradle and can store an additional two charges to keep the buds powered up while away from a wall socket. The case is also used to transfer music from a smartphone, bypassing the need to connect to a computer.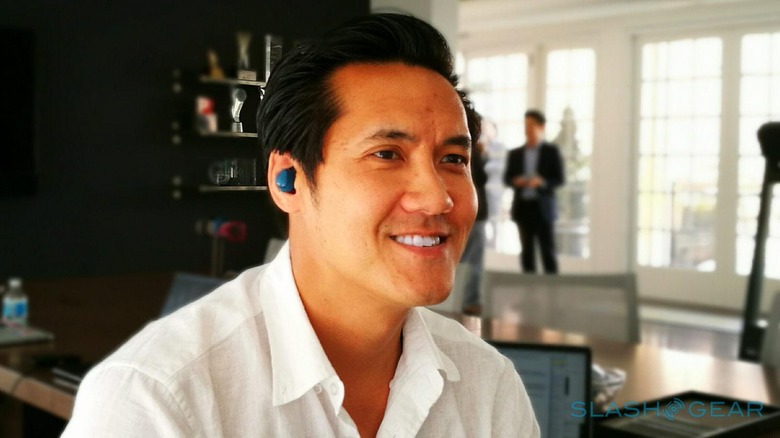 Availability
Samsung poises the Gear Fit 2 as the smart accessory for fitness buffs and athletes, providing 24 hour activity tracking in a more traditional form. The smart sports band will come in three color options of Black, Pink, and Blue and, at long last, a choice between small or large sizes.
The Gear IconX, on the other hand, is more for the casual, health-conscious individual who wants to get as much music into his or her workout regimen as possible. While the Gear Fit 2 is worn all day, the Gear Icon X is perfect for dropping in a bag and quickly putting on when needed. Available colors only include black and white.
The Samsung Gear Fit 2 is priced around $179 while the Gear IconX will go a little higher at $199. Availability dates are still to be announced, so watch this space for that update.