Samsung Gear 2 and Gear 2 Neo smartwatches official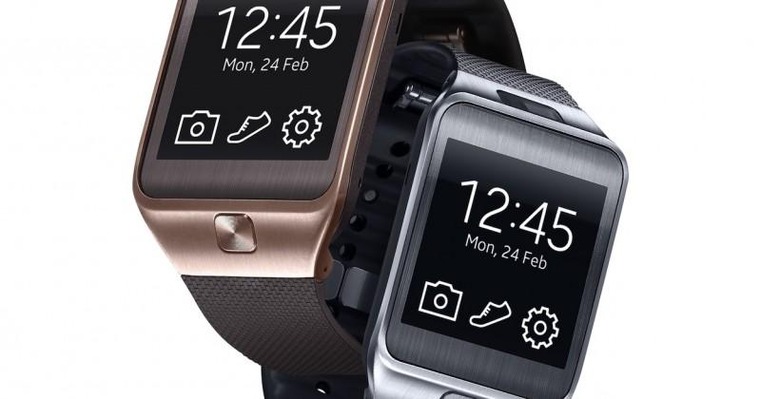 Samsung has revealed two new smartwatches, the Gear 2 and Gear 2 Neo, refining its original Galaxy Gear wearable and ditching Android for Tizen in the process. Revealed at MWC 2014, the Gear 2 and Gear 2 Neo each have a 1.63-inch 320 x 320 Super AMOLED display and run Samsung-led Tizen on a 1GHz dualcore processor. Differentiating the two is that the Neo lacks a camera, a 2-megapixel shooter which the Gear 2 integrates into its main body, not the strap as before.
That means that owners can now switch out the straps, unlike with last year's Galaxy Gear, where the camera and antennas were integrated into the rubber strap and thus prevented it being replaced. The Gear 2 will be offered with Charcoal Black, Gold Brown, and Wild Orange straps, while the Gear 2 Neo will have Charcoal Black, Mocha Grey, and Wild Orange straps; the body of both versions is IP67 certified for dust and water resistance.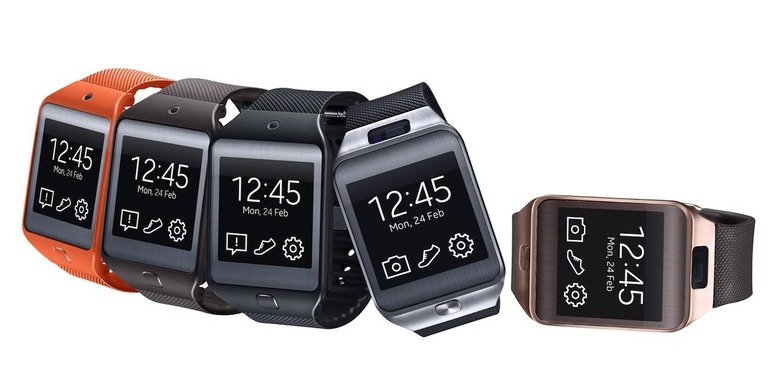 Both Gear 2 and Gear 2 Neo have 512MB of memory and 4GB of internal storage, along with Bluetooth 4.0 LE for hooking up to a phone or tablet, infrared for controlling a TV, an accelerometer, gyroscope, and – new for this generation of Samsung smartwatch – a heart rate sensor. The latter can be used with the wearables' fitness mode, which tracks heart activity, steps, running, walking, and – with companion apps on the phone – cycling and hiking performance.
Galaxy Gear 2
There's also music player support, by hooking up a pair of Bluetooth headphones or using the speaker built into the watch, and that also works as a speakerphone for Bluetooth calls, with the Gear 2 and Gear 2 Neo also including a microphone. Preloaded apps include SMS/email/app notification, calendar, S Voice, stopwatch, a timer, weather forecasts, and media control, though there are add-ons for a calculator, Samsung's ChatON messaging service, voice memo, quick settings control, and to turn the smartwatch into a flashlight.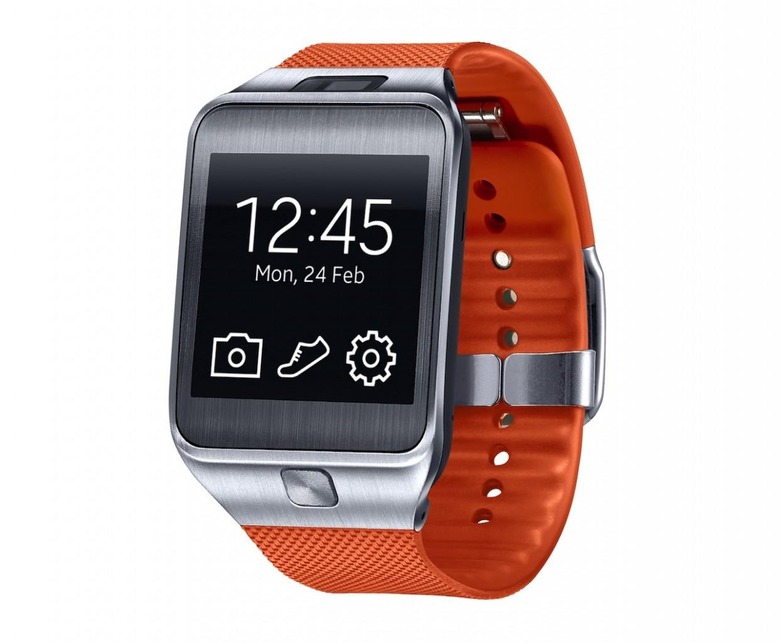 The camera on the Gear 2 has autofocus and shoots still images at up to 1920 x 1080 resolution, or video at up to 720p 30fps. 3GP and MP4 video can be played back on both watches, along with MP3, M4A, AAC, and OGG format audio files.
Galaxy Gear 2 Neo
Bulk is down from the Galaxy Gear, particularly in thickness and weight. The Samsung Gear 2 measures in at 36.9 x 58.4 x 10 mm and 68g, while the Gear 2 Neo is 58.8 x 37.9 x 10 mm and 55g; in contrast, the original Galaxy Gear is 36.8 x 56.6 x 11.1 mm and 73.8g.
Samsung says the 300 mAh non-removable battery in both new watches will last for 2-3 days of "typical" usage – though exactly what that is goes undefined – or up to six days of low use. You'll need a Samsung Galaxy smartphone in order to actually use them, however; the company hasn't given a specific list of compatible devices yet, though says "more than dozens" of phones will work with the Gear 2 and Gear 2 Neo at launch. It seems a safe bet that the list will include the new Galaxy S5 we're expecting to see revealed on Monday.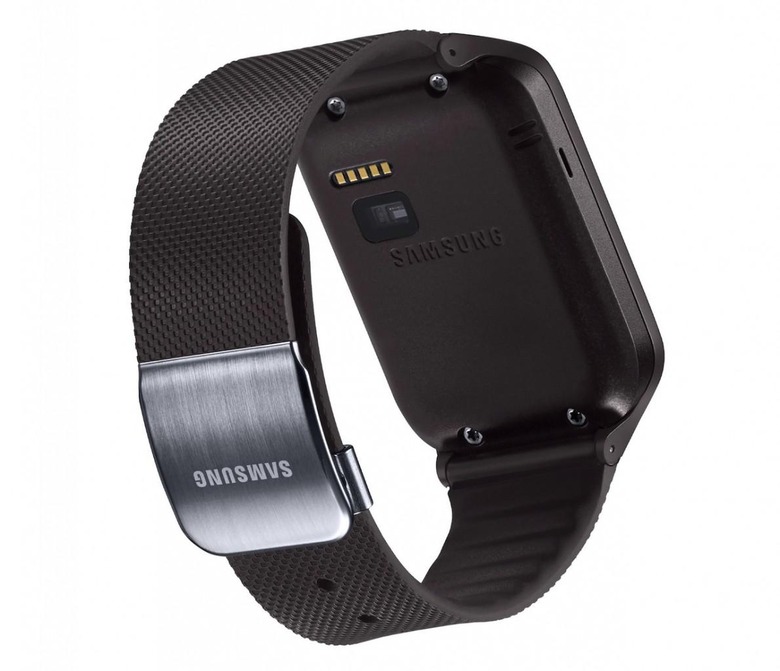 Perhaps most interesting, though, is the decision to switch from Google's Android platform – as ran, heavily modified, on the Galaxy Gear – to Tizen, the open-source OS which Samsung has taken under its wing. The exact reasons for that change haven't been discussed, though are widely believed to be a move by Samsung to take more control over its software destiny, rather than rely quite so much on Google's roadmap.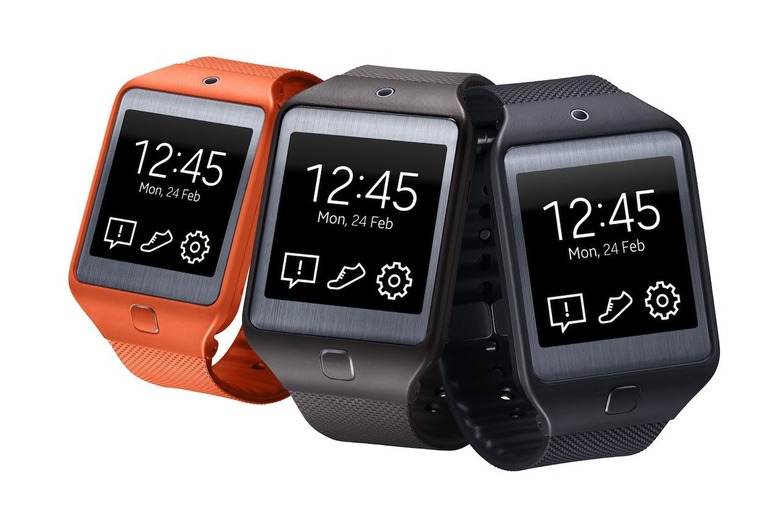 We'll have to wait and see how Tizen holds up, though it seems likely that the two new wearables are only the first of a range of devices to use the OS. Already there are a number of third-party apps for the Gear 2 and Gear 2 Neo, including Banjo, CNN, Conde Nast, Expedia, eBay, Evernote, Feedly, GARMIN, Glympse, iControl, LINE, Path, Paypal, RUNTASTIC, Weather Channel, and Under Armour's Map my Fitness. Several car companies – including BMW, GM, and Volkwagen – have also produced Gear 2-friendly apps.
Pricing of the new wearables hasn't been confirmed at this stage, though Samsung says they'll go on sale around the world from April.