Samsung GamePad turns mobile devices into full-blown gaming consoles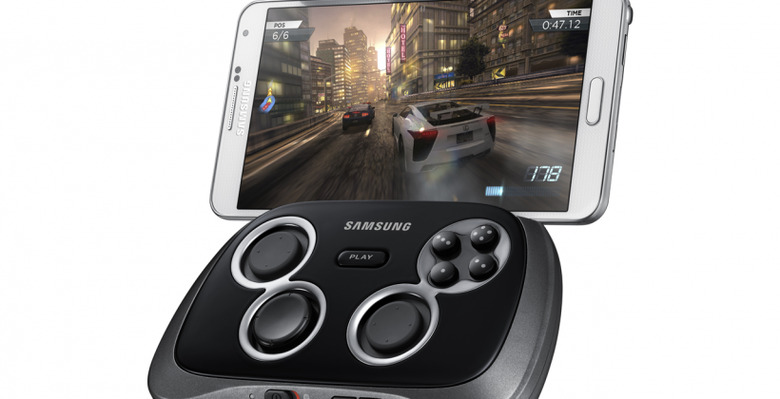 Samsung has released "GamePad", a gaming controller that attaches to a smartphone or tablet for a console-like mobile gaming experience. The GamePad has a telescoping cradle that accommodates mobile devices turned sideways for devices ranging in width from 4 inches to 6.3 inches. The GamePad connects wirelessly to the mobile device via Bluetooth, so physical attachment to the controller isn't necessary.
The GamePad supports all devices with Bluetooth 3.0 for controller-enabled mobile games on the Android operating system (version 4.1 and above, optimized for 4.3+.) Of course, Samsung has optimized the GamePad for its own line smartphones and tablets, e.g., the Galaxy Note 3, S4, Note II, and S III. Still, you should be able to use the controller with a wide range of brands without a problem.
The new controller has an eight-way D-pad, two analog joysticks, four action buttons, two trigger buttons, a select button and a start button. Unique to the controller is the "Play" button. Pressing this while paired with a compatible mobile device starts downloading Samsung's new "Mobile Console" app to the mobile device — or launches the app if it is already installed.
The Mobile Console app is a game launcher that lets you browse supported games. The listings in the app should allow you to see which games are compatible with the GamePad, taking the guesswork out of controller-friendly game selection and purchasing. Among the compatible titles are Need for Speed Most Wanted, Asphalt8: Airborne, Modern Combat 4: Zero Hour, Virtua Tennis Challenge, Prince of Persia: The Shadow and the Flame — as well as a reported 35 games made specifically for the GamePad and plenty more in 2014, according to Samsung. You can get the Mobile Console app through Samsung Apps, or by tapping the "Play" button on the GamePad as mentioned above.
If you want to go big-screen with your mobile gaming, the GamePad lets you do that through a number of methods. You can connect your mobile device directly to your HDTV via an HDMI cable, wirelessly via AllShare screen mirroring — or through Samsung's "Smart Dock" as demonstrated in the video above. The multimedia dock connects to a TV through an HDMI cable. In turn, the mobile device feeds HDMI-quality content to the dock, and the GamePad controls the mobile device via Bluetooth.
SOURCE: Samsung