Samsung's tablet range is growing, with the company adding a new top-tier of Android slates, the Galaxy TabPRO line, intended to be just as at home creating content as they are consuming it. The three-strong line – starting at 8.4-inches, then stepping up through 10.1- and finally 12.2-inches – each offer high-resolution displays and optional LTE, along with the new Magazine UX interface that Samsung debuted on the flagship Galaxy NotePRO. Read on for some first-impressions.
Physically, these are clearly Samsung tablets, with sturdy plastic shells and the company's favored faux-leather rear finish it popularized on the Galaxy Note 3.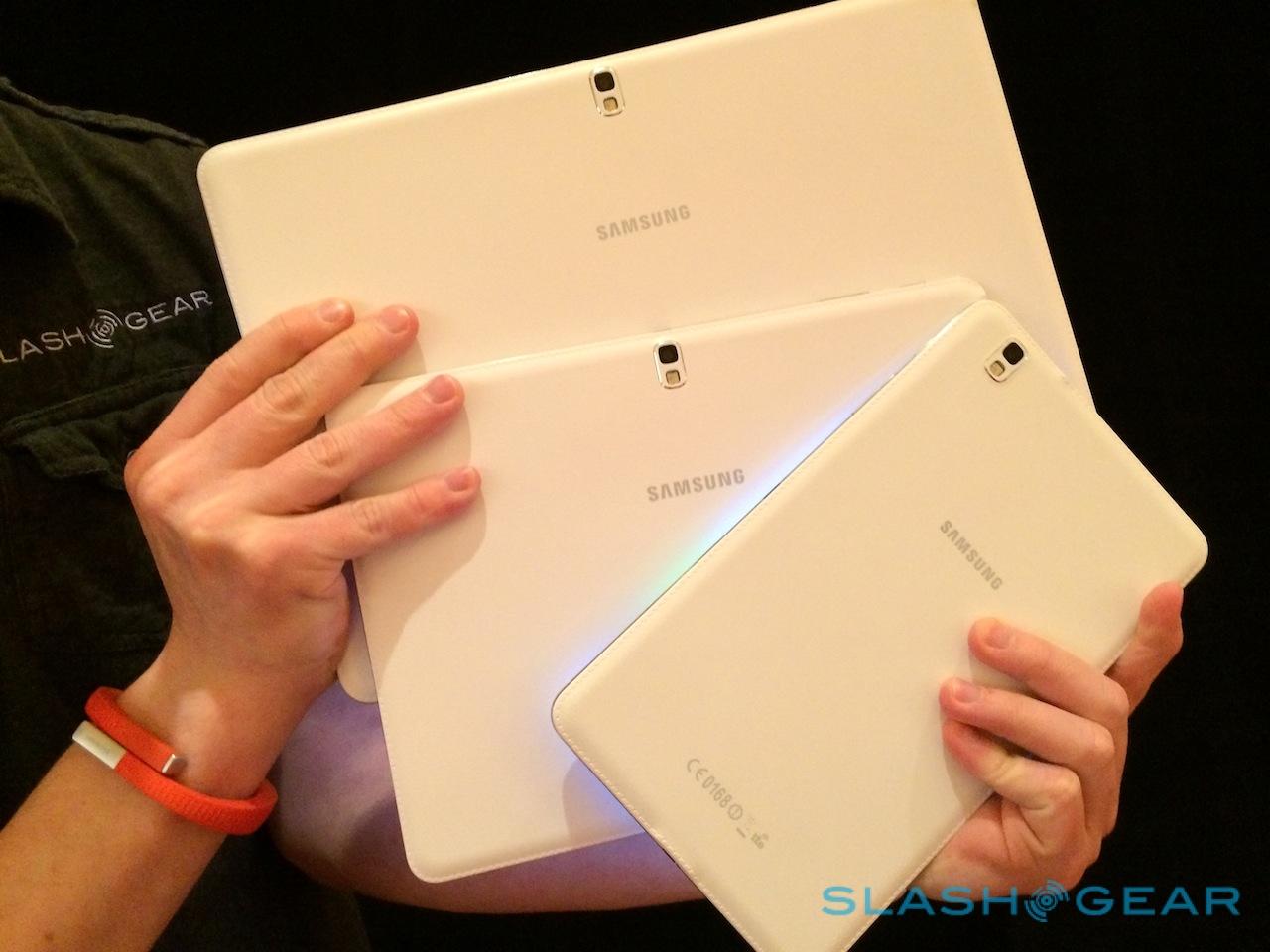 The primary difference between the NotePRO and the TabPRO range is that the latter does not have Samsung's S Pen stylus system. Instead, you're left to use the new, expanded onscreen keyboard which supports multitouch modifiers like Ctrl+C for copying text. Samsung's split-screen system is present, allowing you to drag out up to four apps and have them all share the display at once. You also get the same software bundle, including anything up to 12-month trials of some services like Evernote, and Samsung's Remote PC software which allows you to log into a PC or Mac and access its apps and files from the tablets.
The Galaxy TabPRO 8.4 is the smallest of the trio, with an 8.4-inch 2560 x 1600 Super Clear LCD that's incredibly detailed given the relatively compact display size and the impressively high resolution. It's become something of a cliche to say that the pixels are so small that they can't individually be seen, but it's definitely true in the case of this particular tablet.
Inside, there's a Snapdragon 800 2.3GHz quadcore with 2GB of memory and either 16GB or 32GB of onboard storage with a microSD card slot to augment that. There's optional 4G/3G along with WiFi a/b/g/n/ac as standard, Bluetooth 4.0, USB 2.0 – unlike the USB 3.0 on the NotePRO – and GPS/GLONASS, as well as the usual bevy of sensors. Samsung fits it with a 4,800 mAh battery, though there's no indication of what runtime we can expect yet. An 8-megapixel rear camera with LED flash, and a 2-megapixel front camera, round out the key specs.
The Galaxy TabPRO 10.1 doesn't deviate too far from that model, though it stretches the screen to 10.1-inches of Super Clear LCD (though running at the same resolution). It has the same processor, connectivity options, memory, and sensors, though steps up to an 8,220 mAh battery, while the LTE non-LTE versions will use Samsung's own Exynos 5 Octa chipset.
Finally, the Galaxy TabPRO 12.2 is the largest of the bunch, with the same 2560 x 1600 display as the NotePRO though without the S Pen of course. It has the same processor options as its smaller siblings, but throws in an extra gig of memory for a total of 3GB. It'll also have 32GB or 64GB of internal storage, 2.4/5GHz support for the WiFi, and USB 3.0.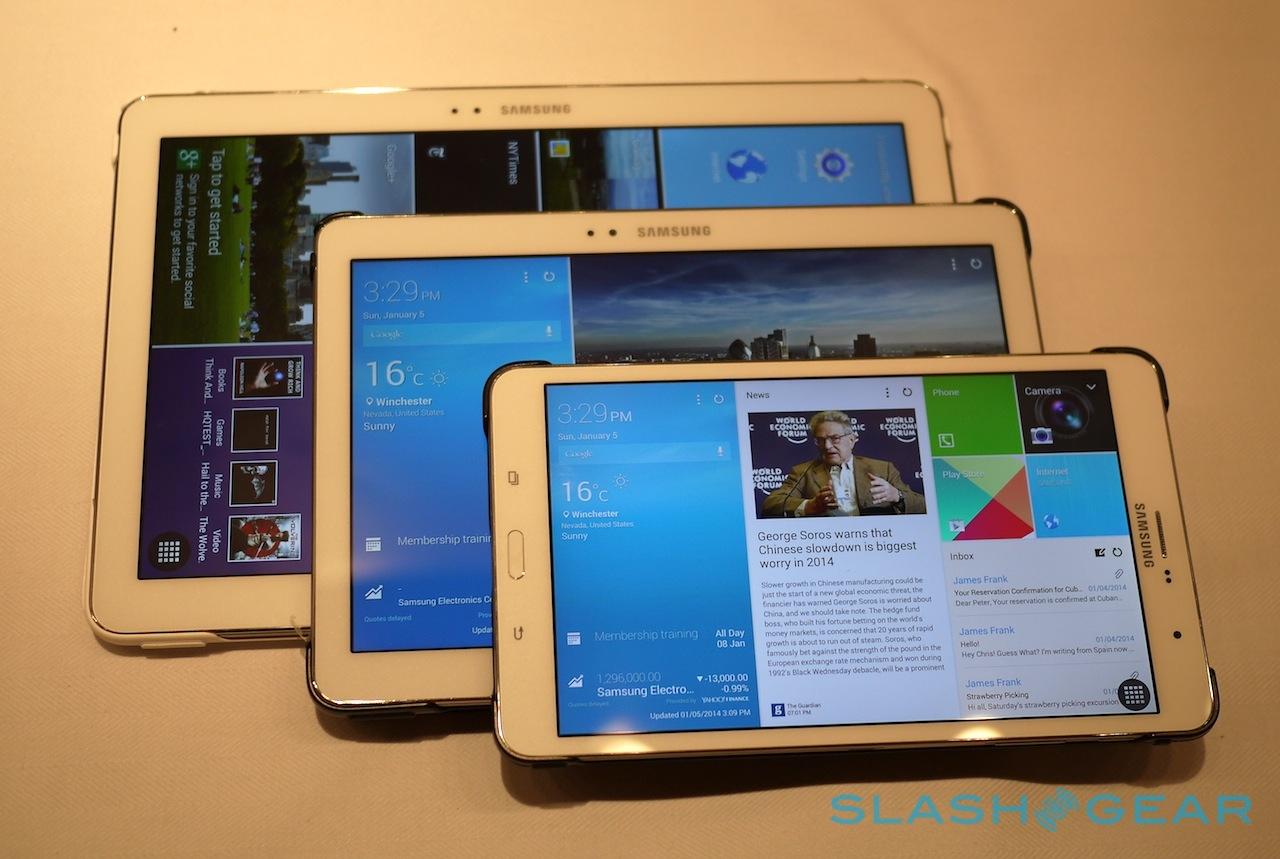 Unfortunately, though it's a few grams lighter than the NotePRO, 12.2-inches is still a lot of tablet to hold for any period of time, and we can't help but think that the 10.1- and 8.4-inch versions are likely to appeal to more users. The smaller model is seemingly designed to be used primarily in portrait orientation, given the positioning of the physical home button and touch-sensitive app switcher and back keys; the 12.2-inch version does offer similar display real-estate to a magazine when held in portrait, but it'll get uncomfortable after extended reading.
A lot will depend on how Samsung prices the three tablets, and how close they come to a regular laptop – particularly when you add in the optional Bluetooth keyboard, Bluetooth mouse, and USB ethernet dongle. We'll know more about that later in the quarter, when the Samsung Galaxy TabPRO range starts its global rollout.