Samsung Galaxy Tab with AT&T Branding Breaks Cover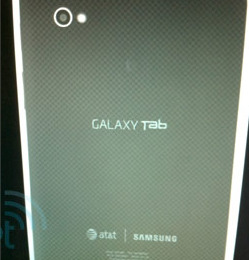 It was only earlier today that we heard rumors that the Samsung Galaxy Tab, the 7-inch Android 2.2-based tablet device from Samsung would be making its way to every major wireless carrier here in the States, and now it looks like we've got a confirmation. Not an "official" confirmation, mind you, but one nonetheless. As long as you believe internal leaked images, that is.
According to a tipster who delivered the image, the Samsung Galaxy Tab is being indicated as one of AT&T's flagship devices for this holiday season. And rightfully so, if you were to ask us. So it looks like the rumors that we had heard are true, not that we didn't think they were. It seems that Samsung is focusing on releasing the Tab on as many different carriers as they can, just as they did with the smaller members of the Galaxy S lineage.
As far as a release date and pricing goes, we don't have anything to share on the latter part. Though, the tipster did suggest the Tab would be released "prior to December." So, that could be any day now, or right at the end of November. We're sure that AT&T will position it as a great alternative to the iPad, and a great holiday present. Anyone interested in an AT&T-branded Galaxy Tab?
[via Engadget]