Samsung Galaxy Tab WiFi-Only Version To Ship April 4 For $399?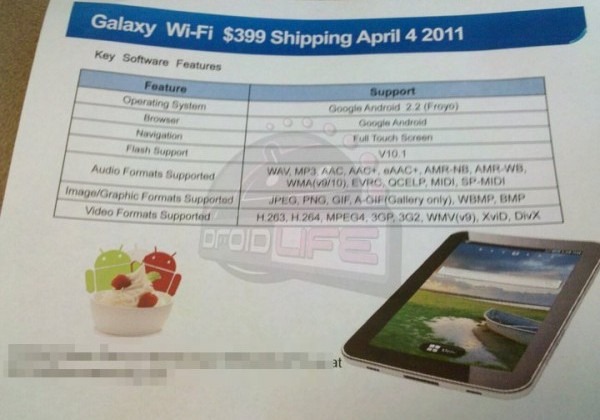 The long awaited Samsung Galaxy Tab may finally be on its way. Well, at the least the WiFi-only version, if what's purported to be a flyer handed out by a Samsung rep is true. An image of the flyer obtained by Droid-Life indicates that the Samsung Galaxy Tab WiFi version will ship on April 4th for about $399.
It's not certain when Samsung will officially announce this, but the unveiling is very likely to happen at CTIA in Orlando, Florida later this month. The device should have the same specs as the 3G-enabled version featuring a single-core 1GHz Hummingbird processor running Android 2.2 with dual cameras, 16GB storage, and Flash 10.1 support.
The price point of $399 is much more appealing than the high priced 3G version Samsung pushed previously that failed to gain traction. However, if the specs listed above are true, the device will be left in the dust again by its competitors. Especially with the launch of the iPad 2 today featuring a dual-core processor and the Motorola Xoom already running Android Honeycomb.
[via Droid-Life]