Samsung Galaxy Tab Uncrating [Video]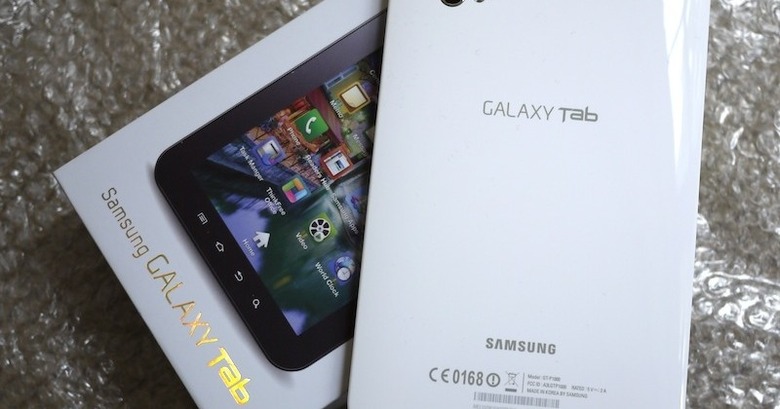 It seems like it's been a long time since Samsung officially announced the Galaxy Tab back at IFA 2010 in early September.  Since then we've seen gradual European availability of the Android slate, in the run-up to a UK launch on November 1 and broad US sales on all four major carriers in the middle of next month.  Today, DHL dropped off a wooden crate on the SlashGear doorstep, with a shiny new European-spec Galaxy Tab inside; check out the unboxing uncrating after the cut, together with a video demo and some first impressions.
Video unboxing after the cut
There can't be many people who don't know the core specs of the Galaxy Tab by now, but to recap it's a 7-inch capacitive touchscreen running at 1024 x 600 resolution, Samsung's own 1GHz Hummingbird processor as we've seen in the Galaxy S family of Android smartphones, 3G connectivity (either the UMTS/HSPA of the GSM model, or EVDO Rev.A for the Verizon/Sprint version) and WiFi b/g/n.  It runs Android 2.2 Froyo with not only a custom UI by Samsung but several redesigned apps, tweaked to take advantage of the higher-resolution display, and manages to secure Android Market access (which is something plenty of other Android tablets can't achieve).
On the back there's a 3.2-megapixel camera with LED flash, while up front is a camera for video calls.  The European Galaxy Tab can be used as a (large) phone for voice calls (and 3G video calls), though that functionality has been stripped out of the US versions.  Finally there are all the usual Google apps you'd expect from an Android smartphone, including Gmail and Google Maps Navigation, together with Samsung's own Apps store (which currently contains a whole three titles).
Samsung Galaxy Tab uncrating & demo:
[vms b2db54d55bc8bba2fad1]
Once we got inside the wooden crate, and then through the various layers of bubble-wrap, the Galaxy Tab itself is surprisingly small.  Samsung don't include much in the way of accessories, either; you get a USB AC adapter, a USB cable to Samsung's non-standard charge/sync port, a wired stereo hands-free kit and some printed documentation, but no case or anything else.  Of course, the company also has plenty of official accessories – including a keyboard dock and an HDMI dock – so it's in their best interest to keep you wanting.
Steve Jobs notoriously dismissed 7-inch displays as "dead on arrival", but we're not so sure.  The 9.7-inch iPad runs at 1024 x 768 resolution, compared to the 1024 x 600 of the Galaxy Tab, and we're finding it to be accurate and responsive without needing to "sand down [our] fingers to around one-quarter of their present size."  That's all in a package half the size of the iPad, which will fit in your jeans pocket for that matter.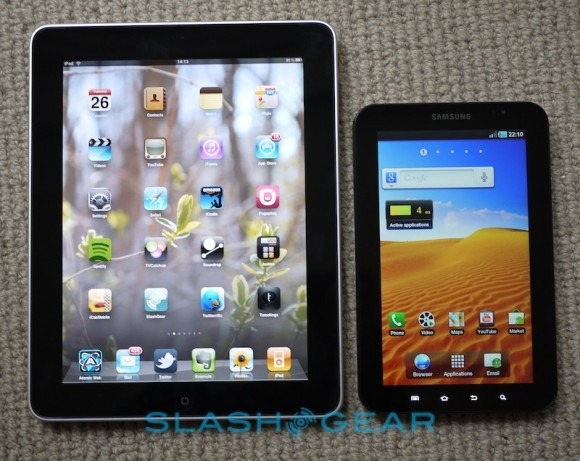 Build quality seems high, and we've not suffered any crashes or stalls during setup; if you've ever punched your Google credentials into an Android phone and got going, you're ready to play with the Galaxy Tab.  Meanwhile Samsung's reworked email app – which has a two-column view in landscape orientation, as on the iPad – has already persuaded us to ditch the native Gmail app.
The big question will be whether the Galaxy Tab delivers on its premium price: £530 in the UK (agreement-free) and ranging from $400 to $600 in the US (with either a two-year agreement or with a month-to-month data plan).  We'll be running it through its paces to find out, so check back soon for the full Samsung Galaxy Tab review!