Samsung Galaxy Tab S5e puts Bixby in a super-slim tablet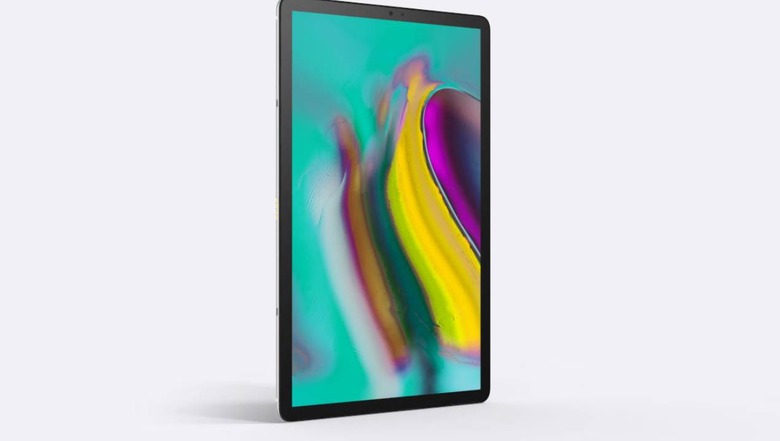 Samsung's big Unpacked event is just a few days away, but it turns out the company isn't saving all of its reveals for the show. Today it unveiled the Galaxy Tab S5e, which serves up a 10.5-inch Super AMOLED display and a battery that Samsung claims can go the distance.
Samsung seems to be positioning the Galaxy Tab S5e as a multimedia machine rather than a workhorse device, as its announcement today has a lot to say about the display and the tablet's AI capabilities, but not much about the internal specifications, which were mostly relegated to a simple spec sheet.. Admittedly, the display on the S5e does seem to be pretty solid, with its slim bezels, 2560 x 1600 resolution, and no home button in sight.
Though talk of internal specifications was fairly limited in Samsung's announcement, it did draw attention to the S5e's battery, which clocks in at 7040mAh. According to Samsung's laboratory tests, that's beefy enough to last as long as 14.5 hours, but of course, your mileage depends on how you're using the tablet. Still, if Samsung's tests mean we can expect somewhere around 10 or 12 hours of screen-on time, that isn't too bad.
The S5e will use a Qualcomm SDM 760, which packs two performance cores at 2.0GHz and six efficiency cores at 1.7GHz. Apparently, the S5e will come in two different models – one with 4GB of RAM and 64GB of storage, and one with 6GB of RAM and 128GB of storage. Further reinforcing the notion that this tablet is primarily meant to be a multimedia device, Samsung has equipped it with quad AKG speakers – two on the top and two on the bottom. Check out the full list of specifications in the table below.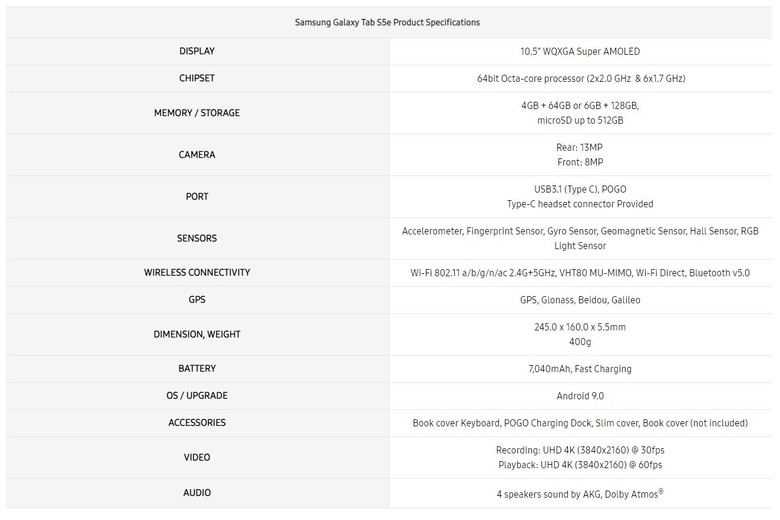 Samsung says the S5e will be the first tablet to feature Bixby 2.0, which is surely exciting news for the three or four people who actually use the AI assistant. It'll also support Samsung DeX, so if you shell out for the S5e's optional keyboard (or any other Bluetooth keyboard, we imagine), you'll be able to use your tablet as if it were a desktop too.
In the end, the S5e seems like a pretty solid tablet choice for those who are in the market, but obviously we won't be able to say that with certainty until we get our hands on one. That may not happen for a little while, as the S5e is scheduled to launch in the US, Germany, and "other countries" in Q2 2019. Pricing hasn't been revealed yet, so we'll keep an eye out for those ever-important details as we inch closer to tablet's launch window.