Samsung Galaxy Tab S3 hinted in MWC 2017 invite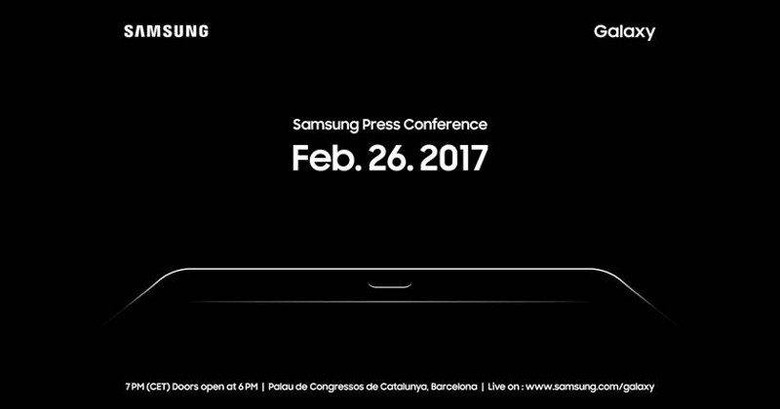 Samsung might not be unveiling the Galaxy S8 at MWC in a few weeks, but that doesn't mean it will be leaving fans of its mobile devices orphaned. The absence of a high-end smartphone is, perhaps, the perfect chance to unveil a high-end tablet instead. And that, indeed, seems to be the case with Samsung's MWC 2017 press event, which, based on the invitation that just went out, will be focused on a tablet. Said tablet is most likely the Galaxy Tab S3 that just recently made its way through the FCC.
It's been quite a while since Samsung actually released a premium Android tablet, or at least one that bears the name of its premium "Galaxy S" brand. The Galaxy Tab S2 was launched way back in 2015 and even then it didn't exactly sport the best of the best, save for the screen. For a time, it seemed that the Galaxy Tab S3 would follow suit.
According to the latest insider tip, however, the Galaxy Tab S3 might end up being an actually decent flagship Android tablet after all. For example, it will supposedly be powered by a Qualcomm Snapdragon 820 with 4 GB of RAM. Though not exactly the latest, the Snapdragon 835 is being reserved for the Galaxy S8. It's still a significant improvement over the Galaxy Tab S2's Snapdragon 600 series processor.
The Galaxy Tab S3, however, didn't change the screen size and resolution, it seems. It's still a 9.7-inch 2048x1536, which is perhaps the sweet spot that Samsung has decided on. If it's anything like the Tab S1 and S2, it's not going to be a bad thing. Especially if Samsung manages to keep the tablet line's slim and lightweight design as well.
Samsung is scheduling a press event on 26th February at Barcelona. The event starts at 7 PM CET (1 PM Eastern) but for the majority who won't be able to make it in person, the unveiling will be live streamed on www.samsung.com/galaxy.