Samsung Galaxy Tab S3 gets its first leaked photo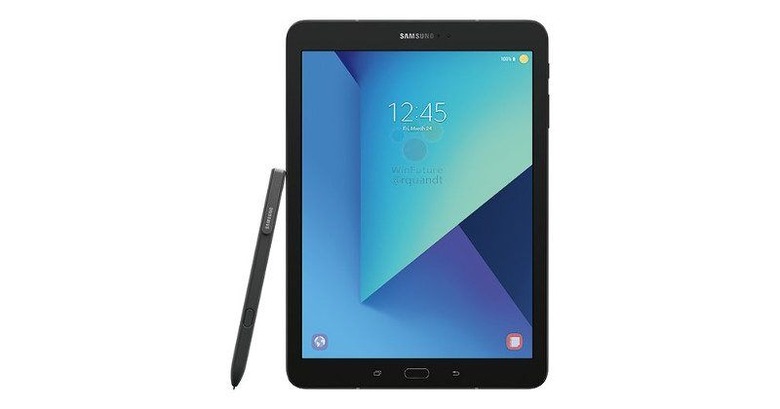 MWC 2017 is barely two weeks away, so all the rumors, leaks, and insider tips are ramping up. Considering how late the revelation of the Samsung Galaxy Tab S3 came, it's not exactly surprising that we're only seeing more definitive leaks now. There's really not much to see in this supposed image of the tablet, which looks like a render intended for the official PR materials. It does, however, seemingly confirm the one important feature for this tablet: it's compatibility with Samsung's S Pen stylus.
The arrival of the Galaxy Tab S3, if the rumored specs and features do pan out, will be an important one for the Android tablet market. It is the first premium Android tablet to come from the Korean OEM in a long while. It will also be the first in its Tab S series to sport a stylus.
According to previous rumored specs, the Galaxy Tab S3 will run on a Qualcomm Snapdragon 820, sadly not the latest 821, with 4 GB of RAM and 32 GB of expandable storage. The screen will be as before with previous Tab S models, a 9.7-inch Super AMOLED 2048x1536 panel. There will be a 12 megapixel main camera complemented by a 5 megapixel front camera. Unlike the previous models however, it is believed that there will be no other size configurations for the tablet, so there will only be one, unambiguous Galaxy Tab S3.
While the Galaxy Tab S3 will supposedly support the Wacom-powered S Pen, it will not have a home for it inside it's body. It's somewhat understandable given how thin the Galaxy Tab S tablets traditionally are. It does seem to be the trend these days, like on the iPad Pro, Surface Pro, and Yoga Book. Unfortunately, Samsung didn't seem to take that opportunity to increase the S Pen's size to more ergonomic proportions.
VIA: WinFuture