Samsung Galaxy Tab Heading to Verizon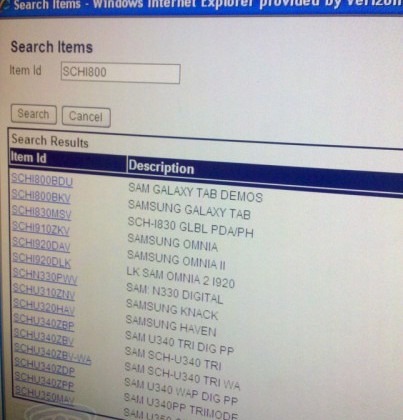 The news about Verizon getting a tablet probably wasn't a surprise to most people. Considering the second largest wireless carrier in the United States is toting Apple's iPad, there's no shock that Verizon would want to jump on the competition train. Also not surprising: Android's involved. We know that Motorola's planning a 10-inch model of their own, but this new internal screenshot is a bit surprising to the rest of us.
It looks like the still officially unannounced Samsung Galaxy Tab, the tablet manufactured by Samsung, is heading to Verizon. The screenshot above clearly shows that the tablet is sitting pretty in their inventory list. It doesn't tell us when it's launching, of course (that would be too easy), but we can probably expect it any time before the end of this year.
The Tab will run Android 2.2, features a 7-inch display, and a 1.3GHz processor under the hood. There's still some debate on whether or not the display is Super AMOLED, but it would be like Samsung to promote the technology. We'll have to wait a bit longer (maybe tomorrow) to hear more details about the device and the Verizon launch, if there is indeed one. Hopefully here soon we'll have all of the juicy information we'd ever want.
[via Android Community]