Samsung Galaxy Tab 7.7 LTE coming to Verizon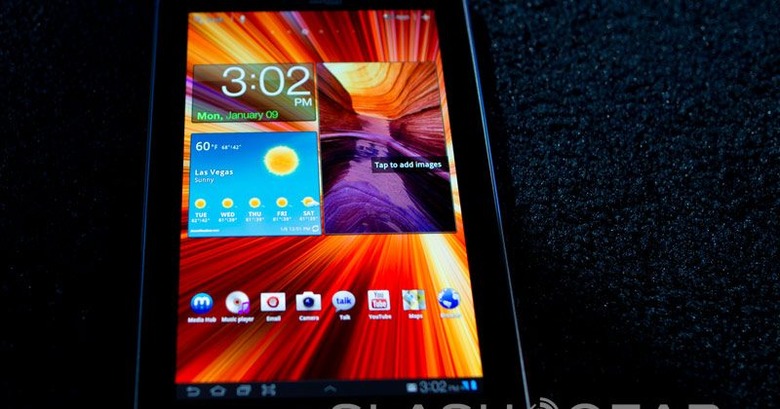 Even before most of the world can purchase Samsung's first Super AMOLED tablet, the US is getting a version for Verizon's LTE network. Samsung broke the news themselves in their CES press conference today: the Galaxy Tab 7.7 is getting a localized Verizon LTE model The specifications are the same as the model revealed in 2010, with the obvious addition of mobile broadband.
The most impressive feature of the Galaxy Tab 7.7 is its screen, a brilliant 7.7-inch Samsung Super AMOLED panel. The screen has a resolution of 1280 x 800, matching the Galaxy Tab 10.1 and 8.9, though it has a vertical orientation. The biggest extra feature is a built-in infrared port to control your home entertainment devices, which the 7.7 model inherits from the 7.0 Plus.
On the inside, the 7.7 gets a 1.4Ghz processor, 1GB of RAM and an 8 megapixel camera. Honeycomb is the order of the day, but it should get an upgrade to Ice Cream Sandwich sometime in the future. Samsung's TouchWiz interface covers the operating system for differentiation.
This gives Samsung 4 active tablet models worldwide: the Galaxy Tab 7.0 Plus, 7.7, 8.9 and 10.1. This comprehensive portfolio is complimented by wireless offerings from all four US carriers. There's no word on a price or date for the Galaxy Tab 7.7 plus ,and perhaps most distressingly, no indication that a WiFi-only (and contract free) model will be coming to the US at all. Check out a few photos below.