Samsung Galaxy Tab 7.7 hands-on [Video]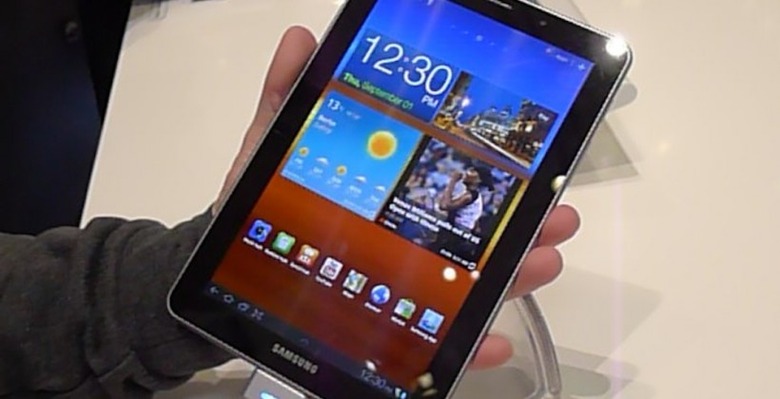 It's the one year anniversary of the original Galaxy Tab, with Samsung's first 7-inch stab at the market launching at IFA 2010. This year, with the Galaxy Tab 10.1 under its belt and the Tab 8.9 imminent, it's the turn of the Samsung Galaxy Tab 7.7 to make its debut. Bigger screen, better processor and now in time for Honeycomb, the high-resolution Tab 7.7 wants to convince you that just because Steve Jobs isn't a fan of the 7-inch form-factor, that doesn't mean there's no room for "tweener" slates. Read on for our first impressions from the show.
As the name suggests, where the original Tab had a 7-inch panel this new Tab 7.7 scales up to 7.7-inches. More noticeable are the panel type and resolution, however, it now being Super AMOLED Plus – just as with the Galaxy S II smartphone – rather then LCD, and 1280 x 800 resolution instead of 1024 x 600. That means smoother graphics, brighter colors, inkier blacks and great viewing angles, though still all packed into a compact form-factor.
One-handed use is always the sweet-spot for 7-inch devices, and at 7.89 mm thick and 335g the Galaxy Tab 7.7 is certainly easy to hold. Its metal chassis makes for a more premium feel than the plastic-bodied 8.9 and 10.1 versions, and it's actually thinner – though a little heavier – than Amazon's Kindle. Android 3.2 Honeycomb is dressed up neatly in TouchWiz, just like the bigger models, though unlike them the Tab 7.7 is also designed to function as a phone for voice calls and SMS/MMS messaging, thanks to its GSM/EDGE/HSPA+ modem. Whether North American carriers leave that voice functionality enabled or, as on last year's Tab, have it disabled remains to be seen.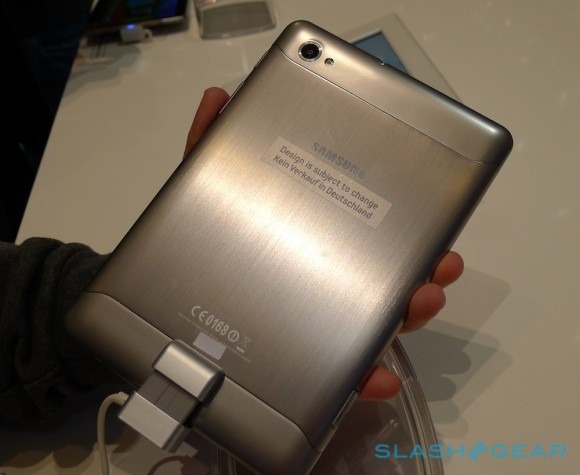 Other connectivity includes WiFi a/b/g/n with support for both 2.4GHz and 5GHz bands, WiFi Direct and WiFi Channel Bonding for better performance with compatible routers. There's also Bluetooth 3.0, GPS/A-GPS and USB Host. Onboard storage is the now-typical 16GB/32GB/64GB trio, and Samsung reckons the 5,100 mAh battery is good for up to 10hrs of video playback, though we'll have to wait for review units and finalized software to see if that's accurate.
Camera abilities haven't improved dramatically from its predecessor, with a 3-megapixel autofocus camera with LED flash on the back and a 2-megapixel front-facing camera for video calls, but that's par for the course on most of the tablets we've seen of late. Those looking for tablet-style functionality but better optics might find the stylus-toting Galaxy Note more interesting, with its Tab 7.7-matching 1280 x 800 resolution (on a smaller, 5.3-inch display) and 8-megapixel main camera capable of Full HD video recording. Both models use the same 1.4GHz dual-core processor, which keeps things moving swiftly.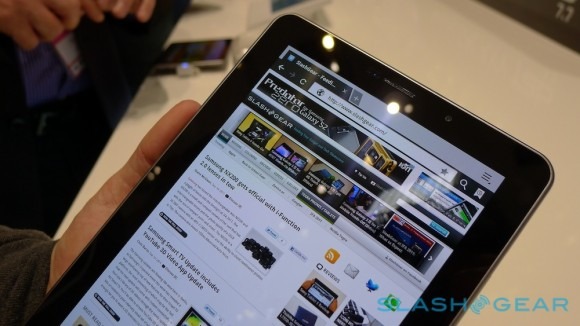 In short, we can see the Galaxy Tab 7.7 being the slate that convinces many that they don't actually need 10.1- or even 8.9-inches to get the full tablet experience. Slimmer and lighter than its predecessor, despite offering a bigger, better screen that – thanks to the higher PPI – looks more refined than that of its bigger siblings, there's certainly plenty to recommend it. We'll have to wait until the full review to find out if Samsung has entirely pulled it off, but the Galaxy Tab 7.7 is most definitely a tablet with promise.
Samsung Galaxy Tab 7.7 hands-on:
[vms 6f24efd9395aa7662bc7]