Samsung Galaxy Tab 4 tablets: leaks spill the beans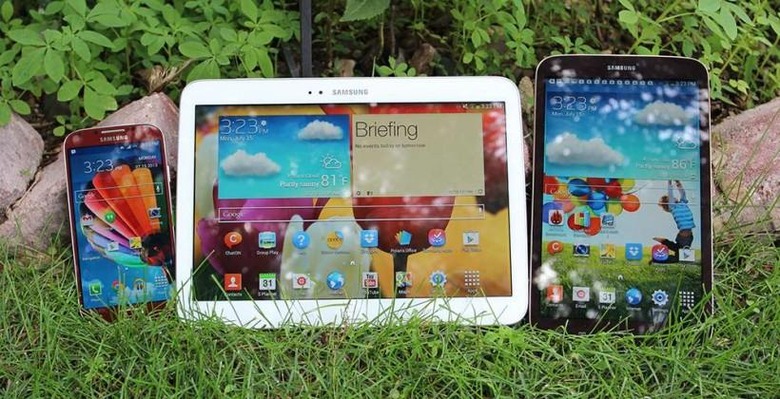 According to a collection of documents shared this afternoon relatively anonymously, the Samsung tablet division is readying three new Samsung Galaxy Tab 4 devices for Mobile World Congress 2014. These devices will each be incrementally better than their predecessors, coming up with cameras and processing power roughly on-par with the Samsung Galaxy S III for each iteration – roughly. These devices will also each be released with Android 4.4 KitKat.
Another year, another set of tablets – that's what we're seeing here from the likes of Samsung with the Galaxy Tab 4 in 10.1-inch, 8, and 7-inch iterations. Starting with the largest of the bunch, you'll be seeing a 10.1-inch display with 1280 x 800 pixel resolution – the exact same panel as last year's model. Instead of dual-core, we've got a quad-core processor, and with 16GB internal storage (again), we've bumped 32GB capacity microSD up to 64GB.
The camera on the Galaxy Tab 4 10.1 is now 8-megapixels instead of 3, while the front has a 2-megapixel camera instead of 1.3. This device will roll with almost exactly the same dimensions as the previous model, carrying the same battery size and network connectivity as well – even the Bluetooth is the same (it was Bluetooth 4.0 already last year). This is all according to PhoneArena and their original source MySamsungPhones, of course – but based on Samsung's last few years of releases, we have no reason to doubt these specifications.
In the Galaxy Tab 4 7.0 we've got a device that's also almost the same with the same display, a quad-core instead of dual-core processor, and another 8GB internal storage with the same microSD capacity boost up to 64GB that the 10.1-inch tablet got. Here we've also got the same cameras as last year, same connectivity, and almost the exact same dimensions too, with a slightly larger battery and a few different bits of software.
The Galaxy Tab 4 8.0 works with the exact same display as last year, a quad-core processor instead of dual-core, and the same 16GB internal storage with boost to 64GB microSD capacity as the other two Galaxy Tab 4 devices. Here we've got – surprisingly – a drop down to a 3 megapixel camera instead of 5 megapixels while the frontside camera remains the same. Connectivity is the same and the battery gains significantly – 4,450 grows to 6,800mAh – the body size gets a bit thicker too, likely to make way for the battery.
These devices will almost certainly be shown off at Mobile World Congress 2014 and sent off to carriers and retail over the next year. Watch out, too, for last year's models – and the models from the year before that. They're perfectly fine for even some of the most advanced games and features out there today, they're just one whole heck of a lot cheaper at this point because of the newest device waves – have a peek!