Samsung Galaxy Tab 2 10.1 Lands At Verizon Wireless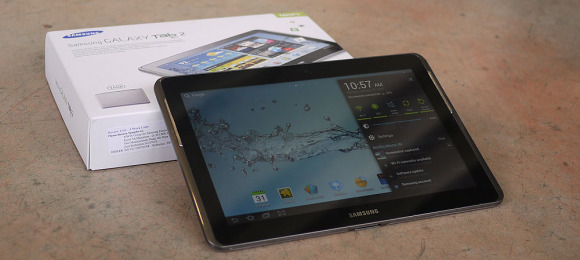 On the lookout for a new Android tablet to add to your collection? If you are, you might be pleased to know that the Samsung Galaxy Tab 2 10.1 launched at Verizon today, complete with 4G LTE capabilities. 4G LTE is going to be the major selling point of the Verizon Galaxy Tab 2 10.1, since everything else about the slate will be mostly the same.
Of course, it will also come with a few Verizon apps pre-installed, but other than those and 4G LTE capabilities, you're getting the same tablet we reviewed earlier this year. That means you get a 1280x800 10.1-inch screen, a dual-core TI OMAP 4 processor clocked at 1.0GHz, 1GB of RAM, and Ice Cream Sandwich out of the box. You've also got 16GB of internal storage at your disposal, but that can be expanded through the use of the microSD slot the Galaxy Tab 2 10.1 comes equipped with.
So no, you're not getting the most powerful tablet in the Galaxy Tab 2 10.1, but it should still be able to get the job done. That being said, don't expect it to be all that cheap – Verizon is offering it at $499. That price, when coupled with the less-than-stellar hardware, might prove to be a deterrent for some folks, but we have a feeling that there are some out there who have had their eye on a Galaxy Tab 2 10.1 nonetheless.
You can also opt to sign up for Verizon's Share Everything plan when you buy a Galaxy Tab 2 10.1, and you'll need to sign up for some kind of data plan if you want to take advantage of that 4G LTE functionality. Verizon opened up pre-orders for the device today, and said that it will begin shipping the devices on November 26 (next Monday). Are you planning to pick up a Galaxy Tab 2 10.1 from Verizon?
[via Android Community]