Samsung Galaxy S9 hands-on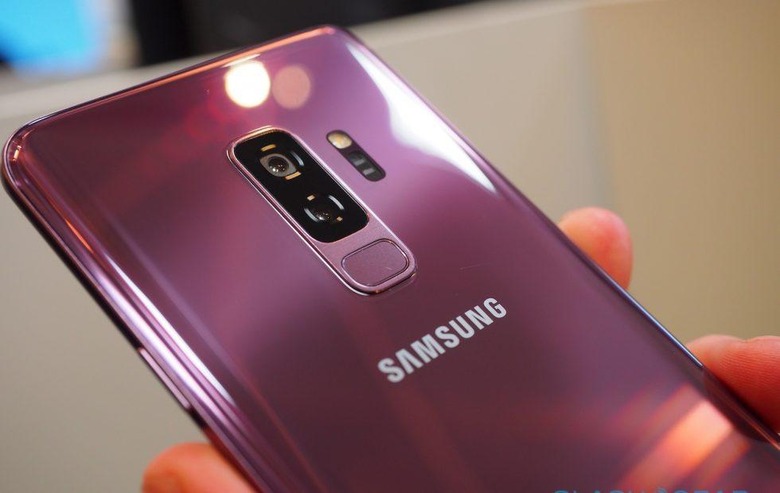 It's no understatement to say that the Samsung Galaxy S9 and S9+ are the most important Android phones of the year. Sure, Google's Pixel might inspire more enthusiast excitement and, contrary to speculation, the S9 won't debut Samsung's first in-display fingerprint scanner but, when it comes to handset sales, the Galaxy is the daddy. For 2018, then, what's fascinating about the new Galaxy S9 is as much about what Samsung hasn't done as what it has.
Something familiar, something new
At first glance, you'd be forgiven for thinking you were looking at last year's flagships. Samsung says that the Galaxy S8 was its most popular design ever, and so the S9 consciously iterates on that rather than embracing change for its own sake. So, the Galaxy S9 sticks with the 5.8-inch Quad HD curved Super AMOLED display of its predecessor, and the Galaxy S9+ with the 6.2-inch version, each running at 2960 x 1440 resolution though now 15-percent brighter than before.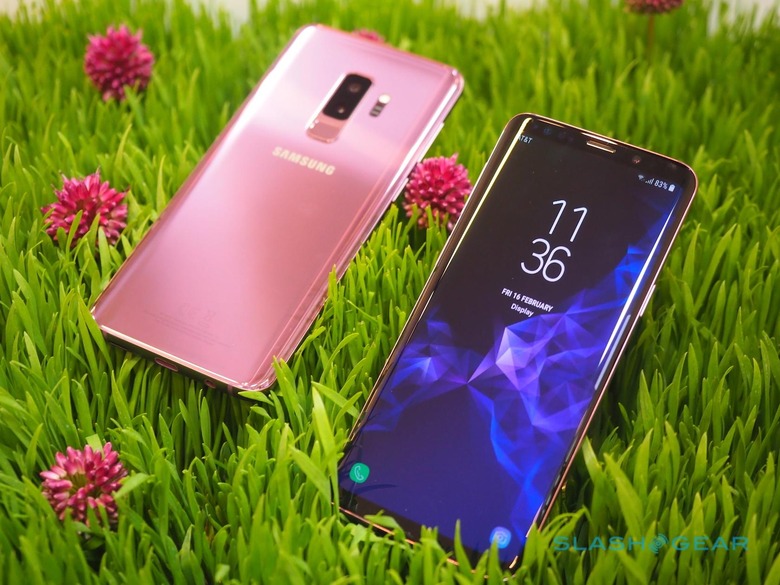 What Samsung has done is devote more of the fascia of its new phones to those displays. The Galaxy S9 and S9+ are each a little over a millimeter shorter than the handsets they replace: the result is the 83.2-percent of the front is taken up by Super AMOLED. Unexpectedly, though, in other ways 2018's phones are larger than before.
Each is a little wider than its predecessor, and they're about half a millimeter thicker, too, though you hardly notice it in your hand. What is recognizable is the weight increase: the S9 is 163 grams, versus the 155 grams of the S8, while the S9+ is 189 grams, versus the S8+'s 173 grams.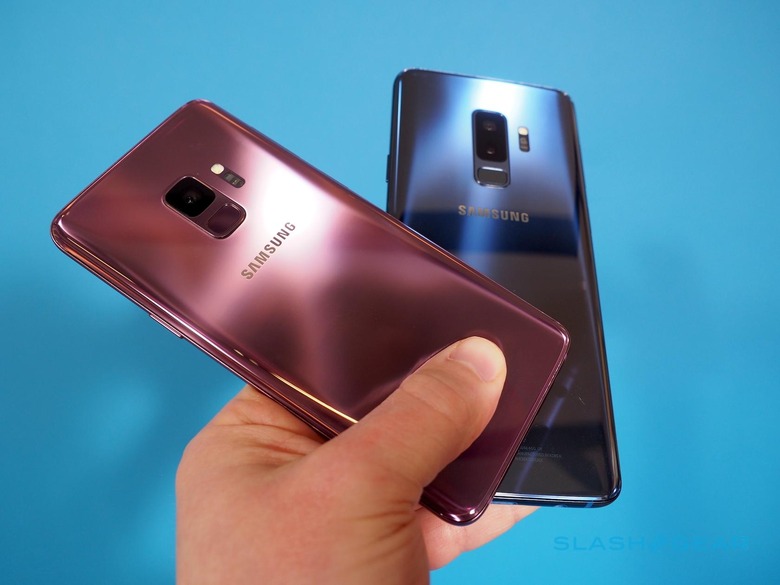 Still, they look and feel sleek and smart (and more than a little slippery). Samsung makes good use of the size and weight increase, too, taking the opportunity to address some of the more vocal complaints about 2017's handsets. What you'll probably notice first is the repositioning of the fingerprint sensor on the rear, which is now underneath the camera rather than alongside it. That, Samsung is blunt about, was a decision that came down to user-feedback, and the S9 and S9+ are all the better for it.
Other improvements include stereo speaker support now. The S9 still has a speaker on the bottom edge, but now the earpiece driver can be used for playback too. It's noticeably louder and clearer than on the S8; Samsung says the AKG-tuned speakers are in fact 1.4x more powerful than before. Dolby Atmos support has been added, for a surround sound effect with or without headphones. You can optionally turn it off from the status bar shortcuts, though having heard it at work I'm not sure why you'd want to.
Samsung's other big fix brings together its two more controversial biometric security features. Iris scanning and facial recognition are now combined – Samsung is calling it Intelligent Scan – with the ensuing promise of the security of the former and the convenience and speed of the latter. More high-stakes apps, such as Samsung Pay, can use the iris scanner alone for maximum protection.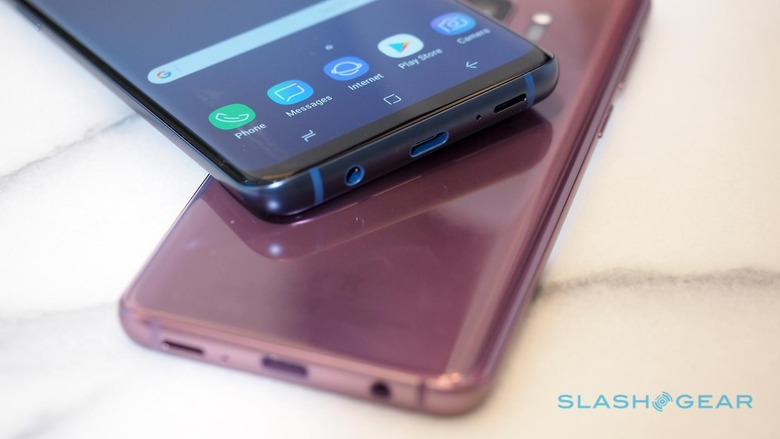 What the S8 and S8+ got right, so the Galaxy S9 and S9+ preserve. You still get a 3.5mm headphone jack and a microSD slot, the latter now supporting up to 400 GB cards. There's still IP68 water and dust resistance, while onboard storage will range from 64 GB to 256 GB, country-depending. Samsung is sticking with its strategy of using the very latest silicon available, too: for the US, that means Qualcomm's new Snapdragon 845, paired with 4 GB of memory on the S9 and 6 GB on the S9+.
The S9 keeps the 3,000 mAh battery of before, and the S9+ the 3,500 mAh of its predecessor. There's fast wireless charging as well as fast wired charging using USB-C, and Gigabit LTE Cat.18 (with 4x4 MIMO and carrier aggregation) is onboard along with the WiFi a/b/g/n/ac, Bluetooth 5.0, and NFC.
So what's changed, then?
Samsung's big push for 2018 is upgrading the Galaxy S9 and Galaxy S9+'s photography talents. Both phones get a new Super Speed Dual Pixel 12-megapixel sensor, with optical image stabilization. It has a choice of two lenses, an f/1.5 and an f/2.4, between which it can switch either automatically or manually. They're mechanical lenses, too: you can watch the S9 flip between them on the back.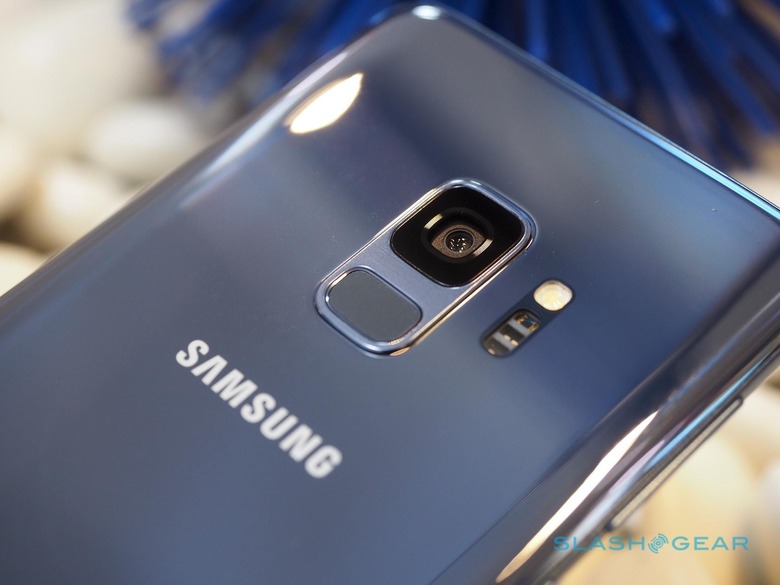 Samsung's argument is that different apertures suit different scenes. In daylight, for instance, f/2.4 is more appropriate: too much light and you'll end up with over-saturation, or blown-out skies. Darker situations, however, benefit from the f/1.5 lens, which allows in 28-percent more light than the f/1.7 optics on the old Galaxy S8. You can leave the phone to switch automatically, or force it yourself in Pro mode.
It's not just the lenses at play, however. Samsung embeds DRAM memory directly into the camera sensor, and then uses that for multi-frame noise cancellation. The S9 and S9+ fire off 12 photos in rapid succession, then splits them into three groups and treats each batch of four with noise reduction comparison. The resulting three images are then combined into a single shot which, so Samsung claims, you'll get 30-percent less noise than in a Galaxy S8 image.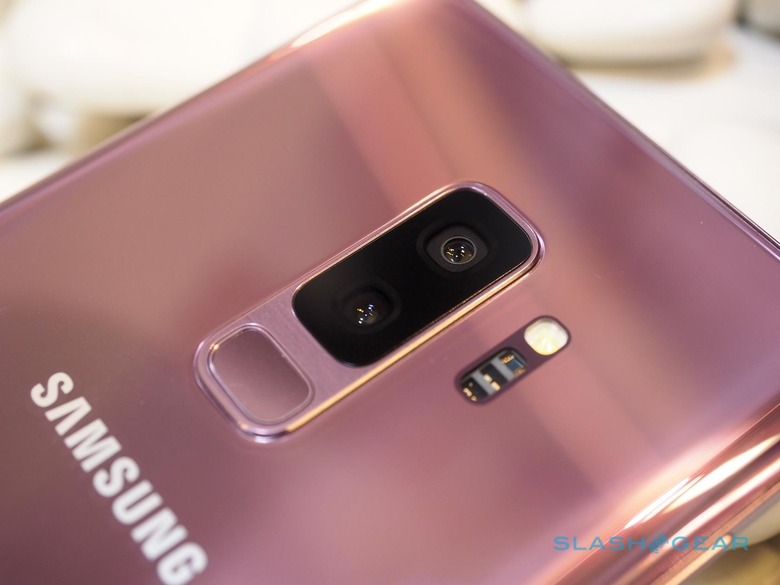 That onboard memory has other uses, too. Since it allows the Galaxy S9 and S9+ to capture photos four-times faster than before, it opens the door to a new Super Slow-mo mode that captures at 960 fps. The regular 240 fps Slow-mo mode is still there, if you prefer. Since timing that could be tricky, there's now automatic motion detect: set up the camera app's trigger zone where you expect the action to happen, like a party-popper bursting or a baseball entering the frame, and as soon as high-speed movement is spotted the S9 will begin capturing.
It's not perfect, mind. Testing the S9 ahead of today's launch, there were a fair few moments where the phone failed to trigger, often because the subject of the photo moved or the action generally didn't take place in the same spot the camera app was watching. When it does work, though, Samsung does its best to make sharing that moment easier. The S9 and S9+ will automatically add music to the resulting video, for instance, or offer to make a GIF or even a wallpaper from it.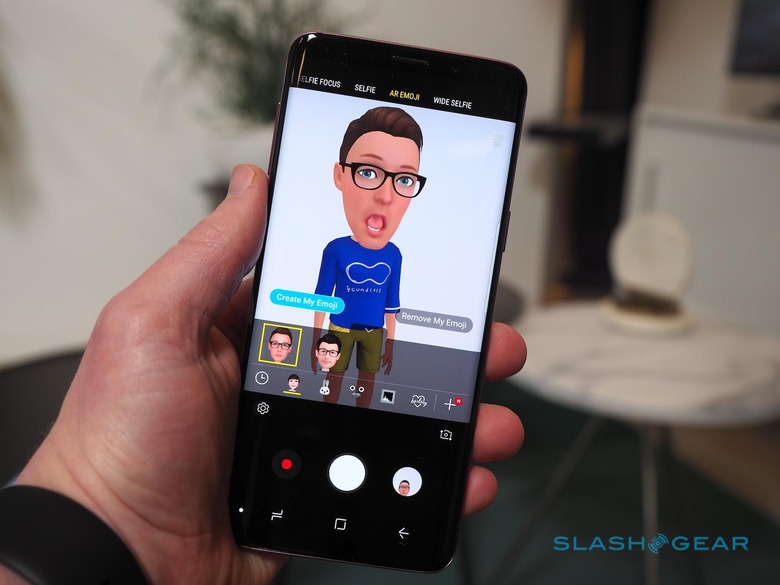 On the front of both new phones there's an 8-megapixel autofocus camera with f/1.7 optics. That's used for Samsung's new AR Emoji, the company's retort to Apple's Animoji. Like the animated iPhone X emoji, Samsung is using face tracking, but the difference is that the Galaxy S9 and S9+ create the animated character from you yourself.
Swipe through the redesigned camera app – streamlined, so that the different modes are now easier to flip between – to the AR Emoji mode, and the S9 takes a few seconds to capture your face. That automatically generates a cartoon-like animated version, which you can then customize with different hairstyles and colors, different eye colors and skin tones, glasses, facial hair, and other personalizations. Samsung offers two choices, one more cartoon-esque and the other more realistic; it also has a catalog of clothes and outfits for your AR Emoji to wear.
Up to eight different characters can be stored at any one time, switched between from a row of thumbnails at the bottom of the live preview. Each is animated according to your own facial expressions, and you can snap stills or record clips of that. I'll confess, after a brief experiment with Animoji when my iPhone X first arrived I've not actually used them since, but Samsung's AR Emoji feel like more fun. Of course, what would really be entertaining would be combining different animated characters, each controlled by a different person on their own S9 or S9+, collaborating on sketches that you could film and share.
The camera changes don't end there, mind. The Galaxy S9+ follows the Note 8's lead, and adds a second, 12-megapixel f/2.4 camera alongside its twin-aperture sensor. That offers a 2x telephoto zoom as well as opening the door to portrait-mode photography with bokeh-style background defocus. Bixby, too, makes more use of the camera.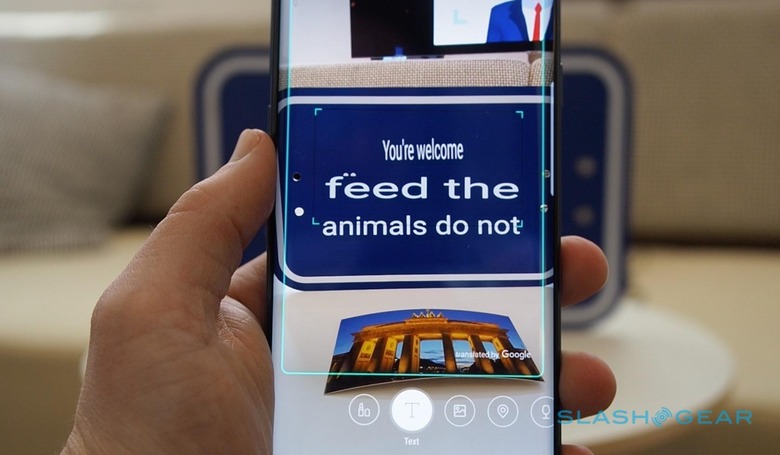 There's now live translation of text across 54 languages and 63 currencies, for instance. Point the camera at a foreign sign, for example, and Bixby will change the text in real-time into your choice of language. Place recognition has been improved, and there's shopping support, identifying items and then giving you the option to order them from Nordstrom and Sam's Club. A makeup mode puts virtual products on your face, to show you what they'd look like, and then lets you buy them from Sephora or Cover Girl. The S9 even promises to recognize foods, with Bixby giving you nutritional information before you succumb to that piece of cake.
A serious powerhouse, too
It's not all fun and animations, however. The Galaxy S9 and S9+ arrive alongside a new dock, the DeX Pad, upgraded over last year's DeX Station system. The core concept is the same: you slot your smartphone into place, plug in a display, keyboard, and mouse, and then turn the handset into a desktop PC replacement. However, in keeping with the S9's ethos of refining and improving, for 2018 DeX gets some welcome upgrades.
For a start, the dock itself has changed significantly. The Galaxy S9 and S9+ now slot in horizontally, rather than sitting upright: it means they can use their touchscreen as a trackpad rather than requiring a Bluetooth or USB mouse, and even show a QWERTY keyboard if you don't have access to a full-sized peripheral. The new design also leaves both the speakers and the 3.5mm headphone jack accessible.
The new DeX Pad is compatible with the old S8 and S8+, too, but the Galaxy S9 and S9+ support 2K displays in addition to Full HD. That gives more screen real-estate for the Windows-like UI. Enterprise customers, meanwhile, will be able to tap into the S9's Knox security system, customizing the smartphone with secure apps like business VPNs and mailboxes.
Refinement, not revolution
It's a testament to Samsung that, twelve months on, the Galaxy S8 and S8+ still hold up well against the smartphones that we've seen since. That the Galaxy S9 and S9+ take an evolutionary approach, therefore, rather than throwing everything out and starting from scratch, seems a wise decision. That's not to say, however, that you won't notice an improvement if you upgrade.
The day to day frustrations of the old phones, like the placement of the fingerprint sensor, have been ironed out. Android 8.0 Oreo out of the box is welcome, as is the new turn of speed from the Snapdragon 845, and the performance gains from Gigabit LTE support. Samsung has, for the most part it seems, resisted the urge to follow gimmicks, and instead delivered a device shaped by the feedback of actual users.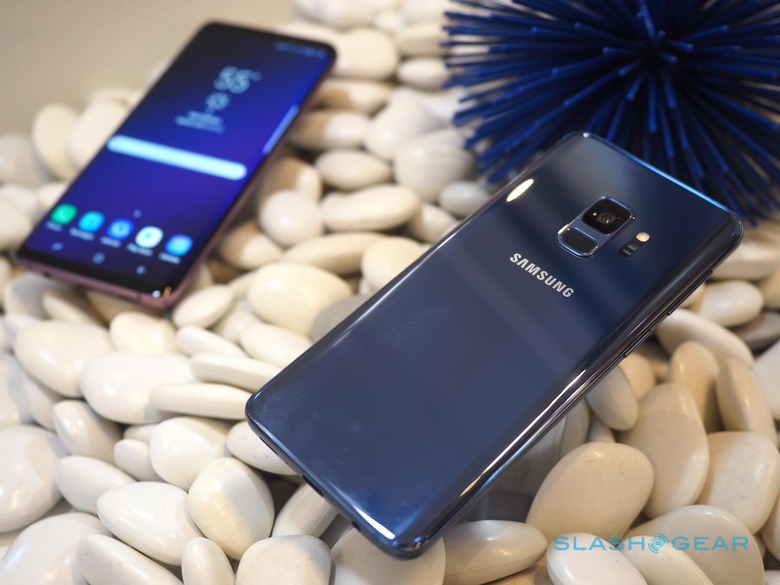 Time will tell how the Galaxy S9's twin aperture camera performs in comparison to the Pixel 2's more computational approach to images or the iPhone X's dual cameras. Mobile photography has moved beyond just megapixel count, and is all the more interesting for it. It's one of the things we'll be particularly keen to explore in our full Galaxy S9 and S9+ review.
As for when you can test that out yourself, you won't have long to wait. The Galaxy S9 and Galaxy S9+ will go up for preorder on March 2, with availability following two weeks later, on March 16. Samsung will be offering a "Trade up and save" offer for those wanting to swap their existing smartphones for a discount on a new S9 or S9+; details will vary according to country, but in the US you can expect up to $350 for a Galaxy S8 or S8+ or its equivalent iPhone. An unlocked Galaxy S9 will be $719.99 while the unlocked Galaxy S9+ will be $839.99; both will be offered in Lilac Purple, Midnight Black, and Coral Blue.