Samsung Galaxy S8 could get 4K screen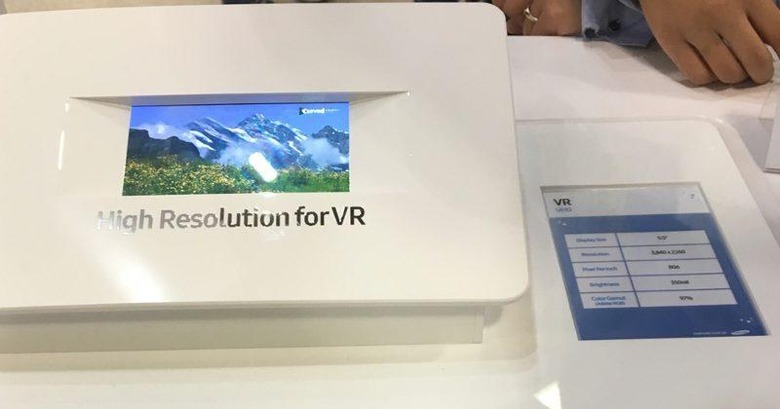 Market analysis, wishful thinking, or both? Whichever the case, Samsung's 2017 flagship might very well bear, not the first, a 4K screen. That is the prediction being made by some analysts like UBI Research, based on trends and current production capabilities. While Sony was really the first OEM to have a 4K smartphone with the Xperia Z5 Premium, Samsung might have a better use case for that extreme high pixel density beyond simple video or photo viewing: virtual reality.
In truth, Samsung already does have a display panel that seems poised for that role. At the Display Week conference last week, the Korean manufacturer showed off a "high resolution for VR" screen that measured 5.5 inches and had an astounding 3840x2160 resolution, a.k.a. 4K. The screen size is a bit larger than the usual Galaxy S flagship, but considering the resolution, something has to give. Of course, it is entirely possible that Samsung would be able to manufacturer a smaller panel by the time the Galaxy S8 comes around.
4K resolutions for smartphones definitely sounds insane for now. On TVs and monitors, those are pretty much desirable. But for smaller displays, even one as large as a phablet, there is some doubts over its effectiveness. Those doubts were raised when Sony revealed the Xperia Z5 Premium, which it simply marketed as a great way to view images and videos. Samsung, however, has a better excuse to flaunt its ability to manufacture small-sized 4K panels.
Packing that many resolutions in a small area does make sense when the screen is right up your face, which is precisely the case with virtual reality headsets. It is even more important considering each eye is also only seeing half of the entire display, while the images are duplicated for each eye. That could be the driving factor for Samsung's move to 4K smartphones next year.
There are, however, some factors that might work against that schedule. It will primarily depend on the productions costs these high density display panels will entail. Also, Samsung might have its hands, and factories, full with bendable, foldable displays if rumors of a 2017 launch for its foldable smartphones are true.
SOURCE: Korea Herald