Samsung Galaxy S5 hands-on: 16MP and fingerprint scanner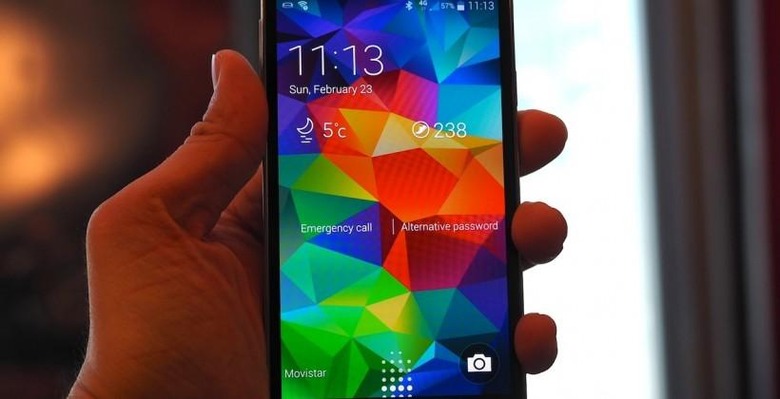 Samsung has a new flagship, the Galaxy S5, and we've been spending some time getting to grips with the 5.1-inch Android smartphone. Launched at Samsung's Unpacked 5 event at MWC 2014 today, the Galaxy S5 has a Full HD 1920 x 1080 Super AMOLED display, 2.5GHz quadcore processor running Android 4.4.2 KitKat, a fingerprint scanner, and a 16-megapixel camera, all wrapped up in a water-resistant casing. Read on for our first-impressions and all the details.
It's not a small phone, as you may have guessed, measuring in at 142.0 x 72.5 x 8.1 mm and tipping the scales at 145g. Samsung still eschews metal for its casings, but the Galaxy S5 follows the Note 3 in getting a soft-touch, leather-feel back; it'll be offered in black, white, blue, and copper gold, depending on region.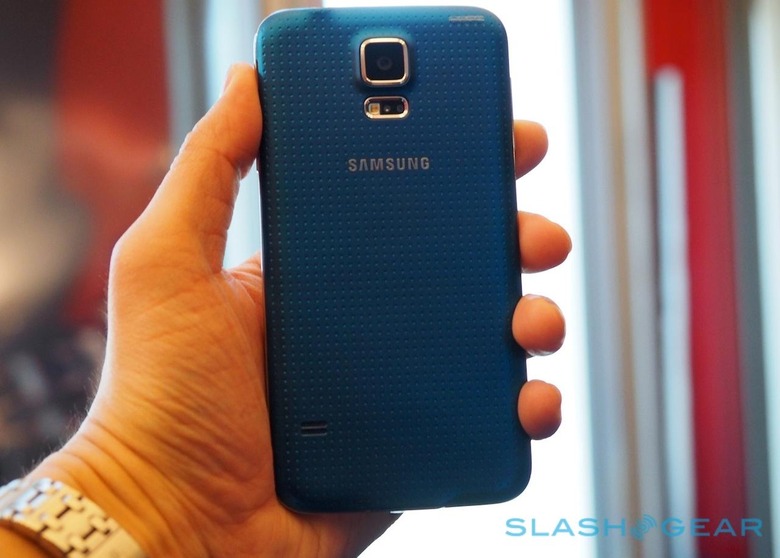 Inside, there's a 2.5GHz quadcore processor, paired with 2GB of memory – not 3GB like the Note 3 – and either 16GB or 32GB of onboard storage (with a microSD slot to add cards up to 128GB). Connectivity consists of LTE Cat4 (up to 150Mbps downloads and 50Mbps uploads, network depending), WiFi a/b/g/n/ac (MIMO 2x2), Bluetooth 4.0 LE, ANT+, NFC, an IR blaster, and USB 3.0.
Samsung has used Download Booster, too, for pairing the LTE and WiFi connections for even faster speeds. By routing data traffic through both – rather than using just LTE or just WiFi, as is the case with most smartphones that prioritize WiFi data on the assumption that it's cheaper and faster for the user – the bonded connection gets information to and from the Galaxy S5 even quicker, with Samsung suggesting rates of up to 600-650Mbps could be seen, networking-depending.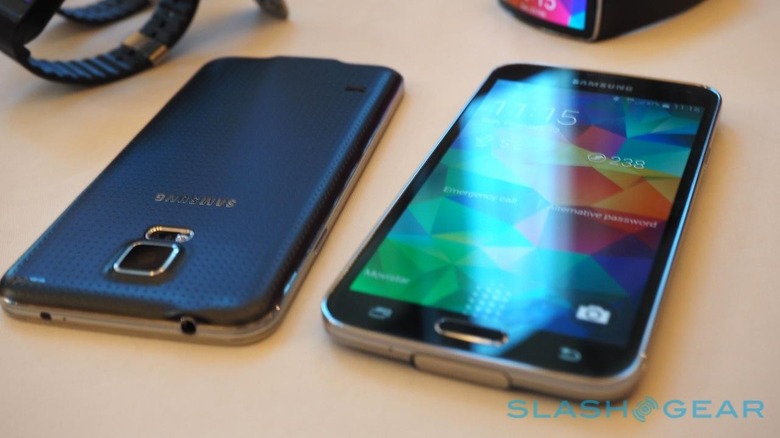 There are also plenty of sensors, too. The usual accelerometer, gyroscope, proximity sensor, digital compass, and ambient light sensors are there, but there's also an IR-based gesture sensor, a fingerprint scanner built into the home button, a heart rate sensor next to the camera's LED Flash on the back, and a barometer. As is usually the case, the Galaxy S5's 2,800 mAh battery is user-removable; Samsung suggests it'll run for up to 390hrs of standby or up to 21hrs of talktime, and even adds a draconian Ultra Power Saving Mode that powers down all unnecessary features and switches the screen into black & white mode.
Samsung Galaxy S5 hands-on:
On the back, there's a 16-megapixel camera which Samsung says can autofocus in 0.3s – supposedly the world's fastest – along with a shallow depth of field (DOF) effect mode, HDR with real-time processing, and Ultra HD video recording at 30fps. There's face-detection autofocus, and a new mode which walks you through creating a virtual tour, similar to what a real estate agent might offer. Upfront there's a 2-megapixel camera for selfies.
In the hand, it's a sizable but sturdy phone. We'll admit to still wishing Samsung would use more metal in its designs, but we can't really fault its construction, with the Galaxy S5 taking after the Note 5 in terms of build quality. A device in the 5-inch bracket doesn't feel so huge any more, either, and as phablets get larger then devices like the Galaxy S5 start to feel more mainstream. It's certainly not cheap feeling, a common criticism leveled at previous iterations.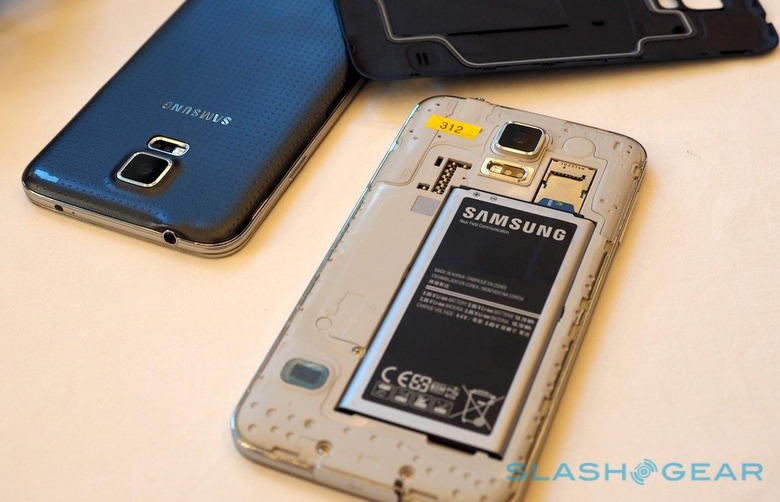 Our warm fuzzy feelings are helped by an excellent Full HD Super AMOLED display, which uses a new custom chip for better adapting to ambient lighting conditions. The Galaxy S5 can automatically adjust both its brightness and contrast to make the display more easily read when outdoors in direct sunlight, for instance, something that also worked well under the bright lighting of Samsung's demo areas.
Chatter of biometric security had been circulating as a likely feature of the Galaxy S5 for some time, and sure enough there's a fingerprint scanner integrated into the smartphone's lozenge-shaped home button. It's the best place for it, we feel, and it's relatively easy to use, though if you're coming from an iPhone 5s the fact that you swipe down across the Galaxy S5's button rather than holding your fingertip in place takes a little getting used to.
Galaxy S5 fingerprint scanner walkthrough:
Multiple fingers can be registered, and there are different levels of lock-down that can be applied. For instance, you can have the Galaxy S5 accessible in a demo mode, but with all personal information and media secured, or simply use the biometrics to unlock the phone with a swipe.
Samsung is working with PayPal on integrating it into mobile payments, too, so that you could effectively buy apps, products, and services and authorize the transaction with a fingertip rather than a password or PIN. We found the hit-rate for the scanner recognizing our fingers was relatively high, though you do have to line your fingertip up properly: the Galaxy S5 prefers a clean downward swipe, not a sideways movement such as if you're holding the phone one-handed and sweeping your thumb across the sensor.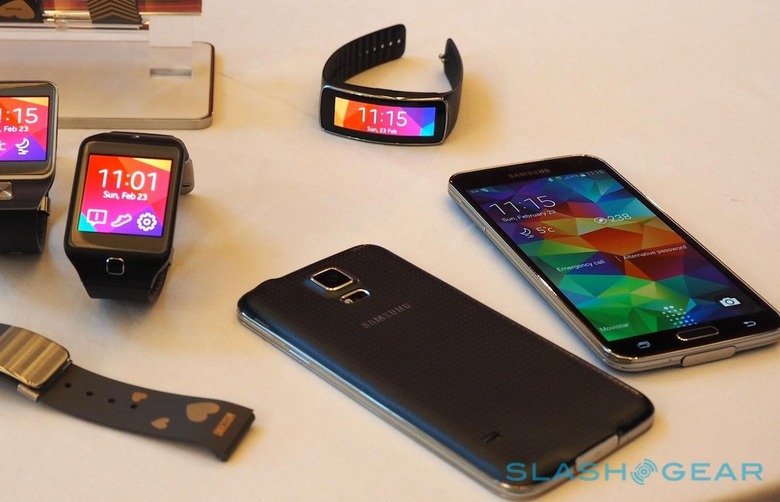 As Samsung's new fitness features in the Gear 2 and Gear Fit suggest, the company is pushing the health benefits of mobile tech hard in 2014. Like the wearables, the Galaxy S5 has a pulse rate sensor – it's on the back, next to the camera LED – and it works with the phone's S Health 3.0 personal fitness tracker, logging heart activity, steps taken, what food you've eaten, and more. Samsung will also open up data from the sensor to third-party apps.
All in all, it's a solid update from the Galaxy S4. It may not be the first device with a fingerprint scanner, but we still won't argue with the convenience it adds, and the improvement in build quality is welcome; we'll hold our judgement on the 16-megapixel camera until we can see the results from final hardware and software.
Samsung tells us the Galaxy S5 will begin a global roll-out from April, though isn't talking pricing at this stage. US carriers haven't been confirmed, but in Europe Orange, T-Mobile, Three, Telefonica/O2, and Vodafone have all committed to offering the phone.