Samsung Galaxy S4 surfaces in golden clad hues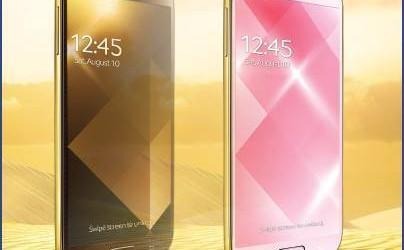 If you're a big fan of Samsung Galaxy smartphones, you may be interested to hear that Samsung has announced the Galaxy S4 is available in a couple of new colors. Both of the new colors share the same gold accent trim with gold around the sides and around the home button on the bottom of the screen.
In addition to having the gold touches, one of the phones has brown around the screen and the other has pink. The official name for the colors is gold brown and pink gold. The two new colors were announced by Samsung Gulf Electronics via Facebook.
Initially these two new colors will be available in the United Arab Emirates and South Africa only. Other than the color change, nothing else about the devices has been modified. The smartphones continue with a quad-core processor, 2 GB of RAM, and a five-inch Super AMOLED display with 1080p resolution.
These two new gold colors go into the line along with the black, white, blue, red, purple, and brown versions already available. There's no word on pricing for the devices at this time, but presumably the price will be the same as all of the other versions since only the color has changed.
SOURCE: BesyBoyz.de