Galaxy S10 might look like this, if we're lucky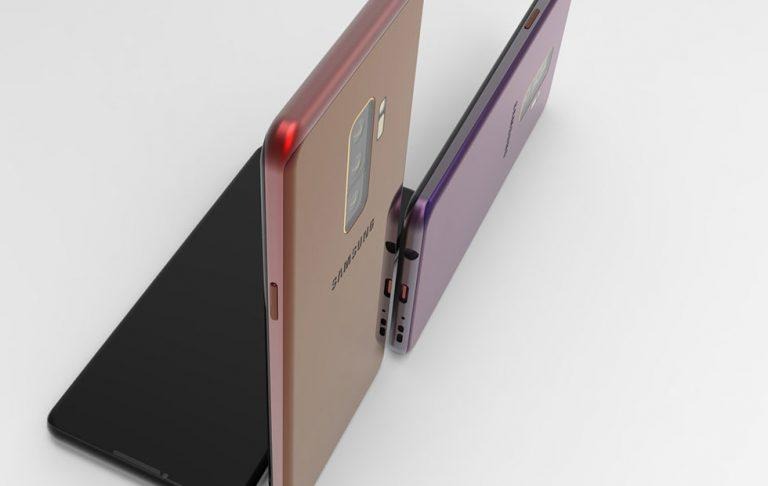 This week a set of leaks about the Samsung Galaxy S10 seem to bring the device (in its several forms) into focus. This is the first time we've gone into depth on the triad of devices in specs right next to one-another with this much confidence – even though the rumors haven't changed a whole lot in the last few weeks. We've got some renderings here that show the Galaxy S10 in a couple different iterations, both of which make it appear to be the most elegant smartphone yet released by Samsung.
The Samsung Galaxy S10 in its most massive configuration will likely be called Samsung Galaxy S10 Plus or Galaxy S10 Max. Both rumored versions of the device have a 6.2-inch display with the same amount of pixels as the Galaxy S9 Plus, with Super AMOLED technology in the mix. This largest edition of the smartphone will have between 6 and 8GB of RAM and at least 128GB internal storage.
The larger device will likely cost somewhere in the vicinity of $1100, if past prices hold true. That'd make the standard Galaxy S10 cost around $1000 USD. That'd also indicate that a third model could cost close to $750 USD. NOTE: Designs above and below come from DBSDesigning on YouTube. Below there are also concepts from ConceptCreator (on multiple platforms).
The standard Galaxy S10 is expected to have a 5.8-inch display with curved edges (like the Plus/Max), and a 5G modem inside. Both of the more expensive models are expected to be able to support 5G mobile internet speeds. The Samsung Galaxy S10 and the Galaxy S10 Plus/Max will likely have either two or three cameras on their backside, and two up front.
The frontside cameras on the Galaxy S10 and S10 Plus/Max will probably have some 3D-scanning technology not yet seen on any Android. Samsung might well be the first company to reveal this technology in its full, reliable and live iteration, for market use. With this tech, Samsung will likely meet or exceed the scanning finesse provided to consumers by the iPhone Xs.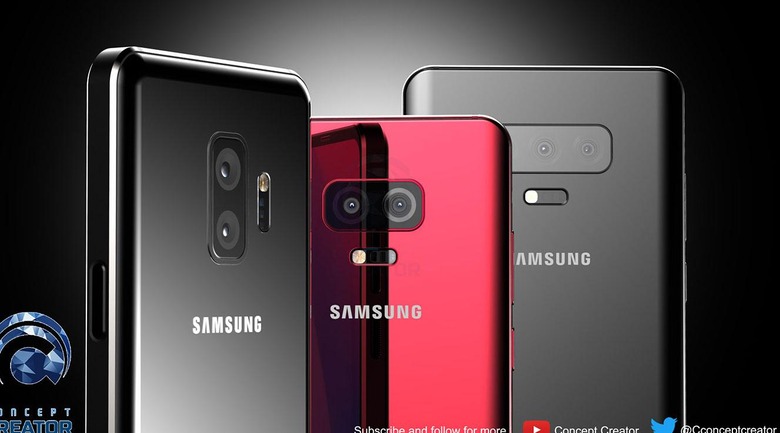 The Samsung Galaxy S10R (as I'm calling it, R for Retro (a silly name, silly indeed)), will likely have a 5.8-inch display that's entirely flat. While the standard Galaxy S10 models will have curved edges on their displays, like the most recent several years of Galaxy S and Note, the Galaxy S10R is expected to stay flat.
The Galaxy S10R will likely also have a significant bezel (compared to the other S10 models) and no in-display fingerprint reader. This model will have 4G LTE connectivity at most, and won't have the same multi-camera arrays as it's more expensive brethren. With these several major changes, the Galaxy S10R will still look good, and perform well, but won't cost nearly as much as its closest relatives.
When and Where and What?
NOTE at this point that every assertion on specifications in this article is based on rumor and information from anonymous sources familiar with the subject. Until Samsung holds their event and releases information publicly, officially, only the company's heads will know for certain. The Galaxy S10 is shrouded in secret – but not really any more secret than any of the most recent several years of phones.
We're expecting the Samsung Galaxy S10 to be revealed at an event just before Mobile World Congress, 2019. If Samsung's tradition holds, that'll be a Samsung Unpacked event taking place on February 24th, 2019. If Samsung's schedule from the last several years remains in-effect, we can expect several iterations of a Galaxy S10 to appear in stores on or near March 15th, 2019.