Samsung's next Galaxy could be a radical departure from iPhone X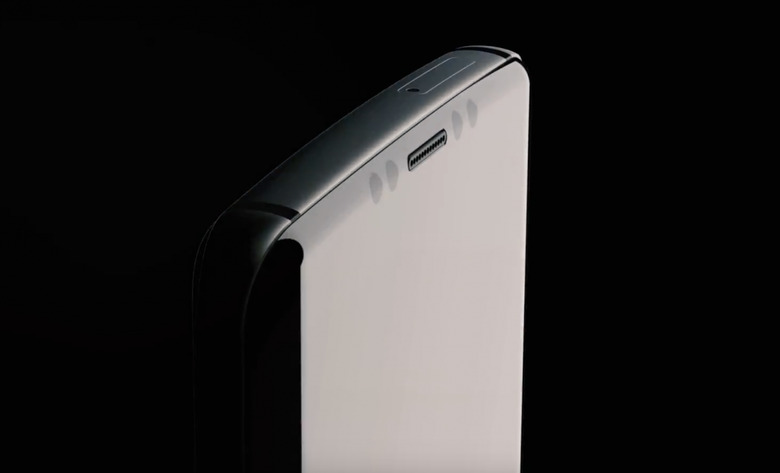 We've been tracking the Galaxy S9, S9 Plus, and now the Galaxy Note 9 too – but what comes next? Is it worth the wait to skip over the Galaxy S9 and Note 9 altogether? Today we're having a peek at some clues that suggest Samsung's next Galaxy smartphone might be the most radical departure from their biggest rival – Apple's iPhone X – since the two companies began warring.
It's probably not the best time to start checking specs if you want the most updated smartphone on the planet. If you just bought a Galaxy S9, don't look at the other Galaxy S9 phone headed for Asian countries. You'll be shelling out money on the gray market quicker than you can count it.
Rumored specs for the Galaxy Note 9 thus far paint a picture of a slightly better Galaxy S9 Plus. That's generally what's happened over the past several years with these two phone lines, with new parts coming to the newest devices. With the Galaxy Note 9 this year, that could mean an in-display fingerprint scanner, something like what you'll see below from "WhiteMTX":
Display fingerprint recognition in the Galaxy S10 and Galaxy Note 9 – and future smartphones – will likely be handled by Qualcomm, Synaptics, and Aegis Tech. These companies are the go-to sources for such tech at this time. NOTE: The concept images you see above and below come from Concept Creator on Twitter.
That technology's been in the mix at Samsung for months, at this point. It was originally rumored for the Galaxy Note 8, then seemed passed forward to the Galaxy S9, now looks like more of a solid lock for the Galaxy Note 9. By the time the Samsung Galaxy S10 gets here, it should (HOPEFULLY) be a given.
A test with some background animation for my next vid. pic.twitter.com/f4opYEN9EW

— Concept Creator (@CConceptCreator) April 13, 2018
What seems still to be a year or more away is the Samsung-made folding-display-toting smartphone. According to industry sources speaking with The Bell, "Samsung Electronics is continuing its design development with in-folding (folding in) and out-folding (folding) [and] final design will be decided in June this year." We've seen prototypes before, but nothing that seemed particularly well tuned enough for a final product.
Further word from anonymously-cited industry sources tipped that the next Samsung Galaxy S-series smartphones would have displays extremely similar to that of the Galaxy S9 and S9 Plus. Instead of 5.77-inches and 6.22-inches, the Galaxy S10 was said to reach 5.8-inches and 6.3-inches.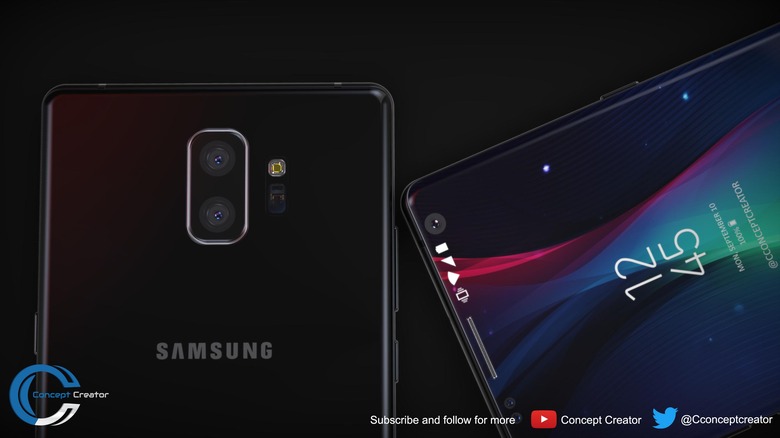 This suggests that Samsung is reaching ever further out toward the true edges of the smartphone, and might not give in to pressure to make another notch-phone. The design originated with the Essential Phone PH-1 and mega-popularized by the iPhone X was spread over the Android smartphone industry like a thick jelly this year – but we're holding out hope that Samsung's not been affected.
It's been tipped several times over the past week that Samsung is working with Mantis Vision and Woodgate for their camera modules. They'll likely employ additional 3D-sensing technology in the next-gen Galaxy S smartphone, improving their Augmented Reality abilities in a big way. While it might not seem that the next Galaxy S device is departing from Apple's latest blockbuster in the features department, we're still holding out hope it'll break the mold with aesthetics and industrial design.