Samsung Galaxy S IV videos leak showing off Smart Pause and more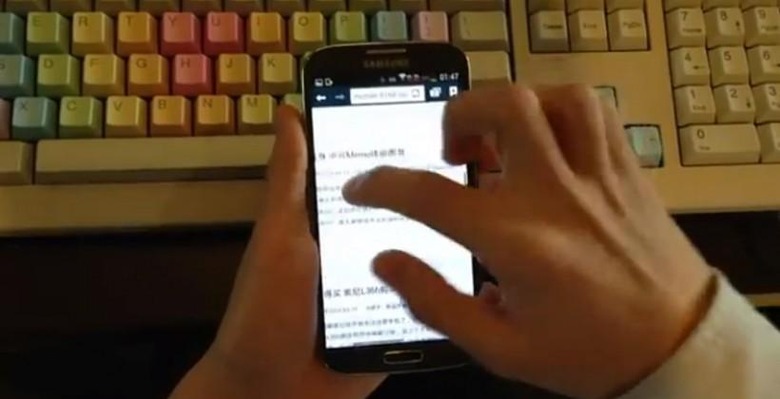 Today's the big day where we finally see what Samsung has up their sleeves (spoiler: it's most likely the Galaxy S IV). However, the event isn't until later tonight, but in the meantime, a few videos have been leaked that show off what is reportedly the Galaxy S IV in action, and we get to take a look at some of the new features like Smart Pause.
In total, there are four new videos, each highlighting a different feature on the new device. One of the videos shows off floating touch, similar to Air View but works with your fingers. The other videos demonstrate Smart Pause, new features of internet browsing, and a new unlock screen, all of which look really great.
Smart Pause is a new feature that allows the device to intelligently pause a video and resume it whenever your eyes wander away from the screen and back to it. As for floating touch control, it looks to work similarly to hovering the S Pen over the screen to get a preview of a file, but only this time it works with your fingers.
As for the internet browsing, the browser seems amazingly quick, and the video shows off a cool feature that's not necessarily Smart Scroll, but the user can navigate between pages and scroll up and down by waving their hands in front of the screen. However, we're guessing Smart Scroll might be in there as well, a feature that allows to scroll with your eyes.
The new unlock screen looks pretty basic, but it seems like you can create unlock patterns that involve both swiping and tapping on the lock screen. Of course, we kind of new Samsung might have something nifty in that respect, since every manufacturer seems to be putting their own creative twist on the lock screen, but we're pretty excited to see the device in its entirety tonight, and as always, we'll be there to provide you coverage of the event, so stay tuned!
[via SammyHub]