Samsung Galaxy S III to cost £550 unlocked: ships May 30th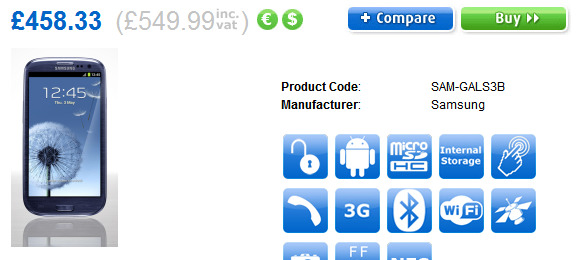 Shortly after the Galaxy S III announcement, UK carriers began announcing their tariffs for the much sought after handset. We know what you really want though: the unlocked handset price. Maybe you prefer not having a contract, or maybe you're in the US and hoping to import ahead of carrier releases. Never fear, for Clove Technology has the critical details you're after.
The 16GB model will set you back £550 (~$889), commanding a £70 (~$113) premium over the HTC One X. That's £50 (~$80) more than the iPhone 4S too, so clearly you're going to have to cough up to be a part of the cutting edge. Clove say that the handset is expected to ship out to customers on May 30th, which lines up with what Samsung announced yesterday. The company will be offering both the blue and white versions.
As for the those wonderful little accessories Samsung demoed at the London event yesterday, Clove say it expects to have some of them in stock in time for the phone launch. There's no word on what the 32GB or 64GB models will cost, although you can probably expect to add around £100 (~$161) each time you move up a storage option. Or just buy a microSD card. It's your call.
In the meantime, make sure to check out all the Galaxy S III details, including our hands-on with the phone and accessories.