Samsung Galaxy S III Press Photo Leaked In Invite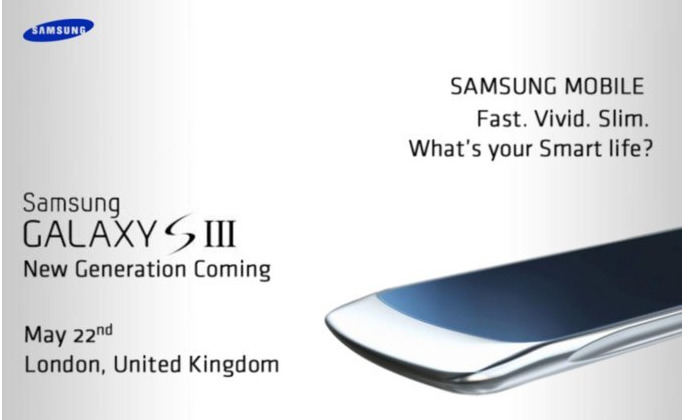 What might be the actual Samsung Galaxy S III or the most interesting fake we've seen all year has appeared on the web tonight, this included in a press event invite set for May 22nd. The odd nature of the event invite is not specifically in the tell-tale signs we'd expect: the type setting looks legitimate, the format appears correct – it's the timing that we're thinking might not stick. Is this therefor the real Samsung Galaxy S III, or simply a photo of a leg of a metal chair made to fool us all?
The event teased in this invite says May 22nd in London, United Kingdom. This is odd in itself as surely Samsung would write London, England instead of the greater UK. As Ron Burgundy said in his appearance this past week on Conan: "the UK, including England." Then the date is a bit strange – normally a press event such as this is not scheduled out so very far ahead – usually a couple weeks is the max amount of time we get before a reveal.
Tip man and notorious supposed holder of a Galaxy S III, or so he says, Eldar Murtazin has commented on the photo saying "My comment about this sgs3 pic....hmmm no comments
what do you think? Real of fake?" This of course could mean anything coming from Murtazin, but certainly isn't something you should dismiss without a second thought.
Note that this image appears to have been posted on several Korean sites before any USA portals picked it up – NavInside, Yahoo Korea, FooHoo (Tistory personal page). We'll keep you up to date if it turns out this really is just a hunk of chrome or a real live Samsung device hopefully soon – stay tuned!
[via Android Community]