Samsung Galaxy S III Jelly Bean firmware leaks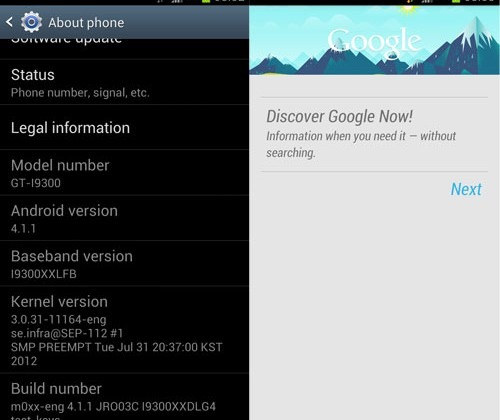 Recent rumors have suggested that Samsung will release its Jelly Bean update for the Galaxy S III on August 29th alongside the introduction of the Galaxy Note II, and just yesterday we saw a video appear on the internet with a user showing off the Jelly Bean firmware. Now the full ROM has leaked out for all to try: if you're feeling brave, then SamMobile has the ROM available for download, but you'll have to be comfortable with flashing it to your device manually.
According to SamMobile, the Jelly Bean update hasn't quite been finalized, with the leaked firmware build a pre-release version built on July 31st. The site says that the final update is still on track for the end of the month, and that it will be delivered to Galaxy S III owners both over-the-air and via KIES. They've also compiled a list of new features that the Jelly Bean update brings.
Samsung will apparently be offering a new clock in the notification bar which matches the one found on stock Jelly Bean, and Google Now is accessed by touching the Google search widget bar instead of long-pressing the home button. Some new live wallpapers have been added, and a new "dormant mode" has been added to the phone, but it's not clear exactly what that entails.
It sounds like there's a couple of bugs to go along with the ROM too, with SamMobile reporting that SD cards are formatted after installing Jelly Bean, and that certain apps fail to install. They recommend that users wait for the official update that should be coming at the end of the month, but the pre-release version is there for those who know what they're doing. If you want a taste of the future, head over and read the instructions very carefully.
[via Sammy Hub]