Samsung Galaxy S III Jelly Bean 4.2.2 update leaks with Galaxy S 4 features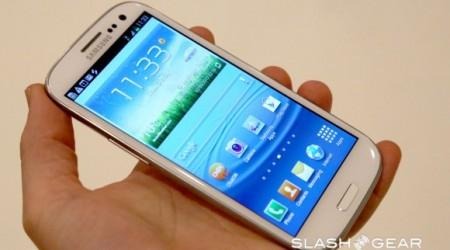 Samsung's Android 4.2.2 update for the Galaxy S III has leaked, bringing Galaxy S 4 functionality to the older smartphone, though the official release isn't expected until sometime in June. Firmware version I9300XXUFME3 for the GSIII is still a work-in-progress internally, according to SamMobile, with the Jelly Bean based OS still apparently undergoing testing. However, this leak does give an indication of which features Samsung will be retroactively bringing to its old flagship.
For instance, the Galaxy S 4's enhanced voice controls are apparently being brought back to the Galaxy S III, building on the S Voice functionality Samsung first revealed on that handset. In fact, the whole new S Voice app is carried across, as are the two new screen modes: Adapt Display and Professional Photo.
The S 4's lockscreen is included, with support for multiple widgets, a size-adjustable clock, and two new unlock effects. There's also a new settings UI, which matches that of the S 4.
Some of the changes are more aesthetic than anything else. There's a new driving mode and the gallery now gets a white background; Samsung's own apps now run full-screen, and there's a new Smart Switch widget.
Meanwhile, the other changes are of Google's own doing, given this is the new version of Jelly Bean. So, the Galaxy S III will get the Daydream screensaver mode, along with tweaks to the notifications drop-down, including actionable alerts.
Still on the table are the Galaxy S 4's camera tweaks – which we covered in our review – with no news on whether Samsung will keep features like picture-in-picture photos and videos to the latest handset, or roll them back into the older device. Those decisions could well change before the official release date, which is expected to be sometime next month.