Samsung Galaxy S II hands-on [Video]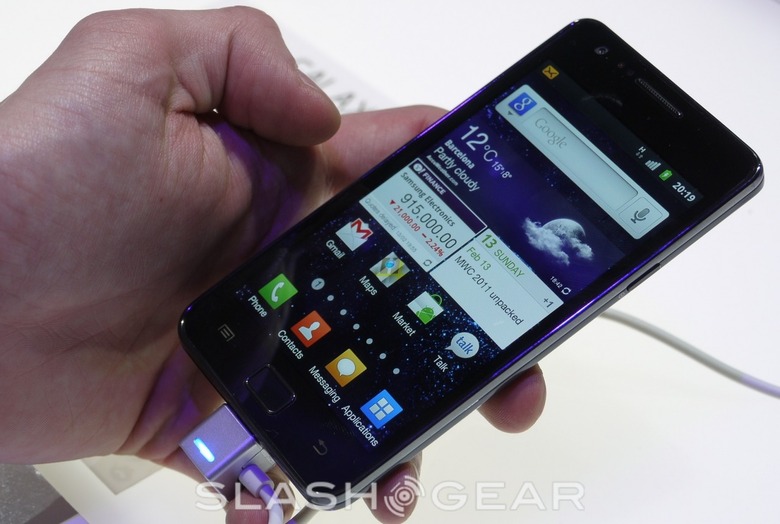 The Samsung Galaxy S II has a lot to live up to. Its predecessor, the Galaxy S, took the top spot for Android devices in the US, was picked up by most carriers, and helped push Samsung to all-time record revenues in 2010. Thankfully, Samsung hasn't taken the easy route and given the Galaxy S II a simple polish; instead, the new smartphone is a hugely impressive powerhouse. More hands-on feedback after the cut.Video demo after the cut
The spec-sheet is impressive alone. A broad 4.27-inch 800 x 480 Super AMOLED Plus display, 8-megapixel rear camera – with 1080p Full HD video recording – on the back and a 2-megapixel camera for video calls up front, NFC, a dual-core 1GHz processor of Samsung's own making, and all in a chassis just 8.49mm thick at its narrowest.
What's really impressive is how all these work together, though, and as we've grown used to on recent Samsung's it's the screen that really sets the bar. The Super AMOLED Plus panel is incredibly bright, crisp and vivid, managing to put Super AMOLED – no slouch itself – in the shade, and that coupled with the waifish profile adds up to a handset that really does feel like a slice of the future.
OS is Android Gingerbread, with Samsung's TouchWiz 4.0 laid on top. We'd prefer a pure Gingerbread, to be frank, but at least in its fourth major incarnation TouchWiz has grown more refined and less garish in its colors and graphics. Happily Samsung has thought beyond simple UI tweaks, and will be installing a variety of "hubs" onto the Galaxy S II that offer gameplay, media and more. Unfortunately they weren't present in the firmware Samsung had to show today.
The company won't have much time to remedy that, however, as the first Galaxy S II units are expected to hit retail later in February, initially in Europe and Asia. No public talk of the North A
Samsung Galaxy S II hands-on
[vms 53761af189682e03501d]