Samsung Galaxy Pro QWERTY Android Candybar Revealed [Video]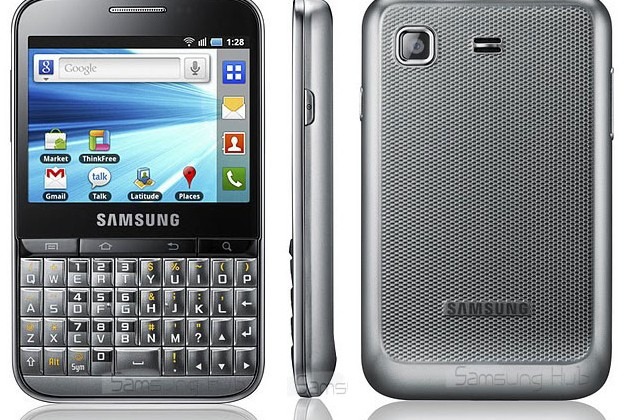 Samsung has announced a new Android smartphone, the Samsung Galaxy Pro, and while we've grown used to seeing the company's near-endless variants on the Galaxy S family, the Pro dips a toe in as a QWERTY candybar. Already confirmed as headed to UK carrier Three "soon", the Galaxy Pro has a 2.8-inch 320 x 240 touchscreen above a physical keyboard, along with a 3-megapixel fixed-focus camera.
Video demo after the cut
There's also WiFi and an 800MHz processor running Android 2.2.1 Froyo. Samsung's TouchWiz interface – seemingly modified to suit the landscape orientation screen – and Social Hub Premium are loaded. The whole thing measures 108 .6 x 66.7 x 10.6 mm and will come with a 2GB microSD and WiFi hotspot sharing support.
No word on pricing at this stage, but we're assuming – given the CPU and relatively low resolution camera – that the Galaxy Pro will be a reasonably affordable device. If it's a hit in Europe, we're also guessing Samsung will look to bring the Galaxy Pro to the North American market.
[via xataka]