Samsung Galaxy Player 5.8 photo and specs leak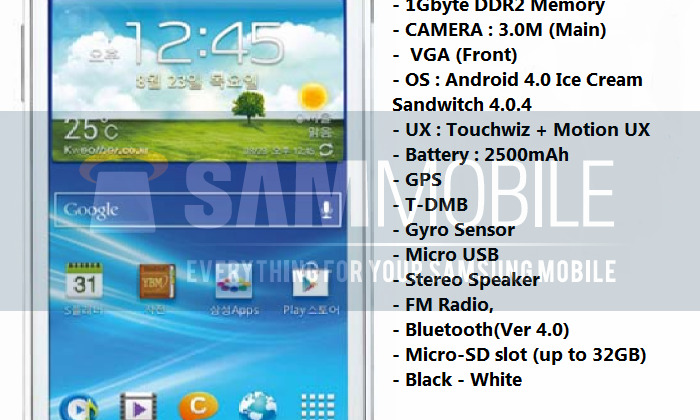 Samsung isn't just planning a sequel to the Galaxy Note, with a leak suggesting that the company is also planning on refreshing its Galaxy Player devices, PMPs running Android with WiFi connectivity. According to a picture and information handed to SamMobile, Samsung is planning a huge 5.8-inch screen for its next Galaxy Player device, bringing with it some mid-range specs in the process.
The 5.8-inch screen with have a qHD resolution, with the display making use of standard LCD technology instead of the company's popular Super AMOLED tech. That falls in line with previous Galaxy Player releases, however, helping to keep costs down. Other specs for the device include a dual-core processor clocked at 1Ghz, 1GB of RAM, a three megapixel camera and VGA front-facing camera, plus Ice Cream Sandwich and TouchWiz 4.0.
The player won't be as svelte as some smartphones, but we doubt many will be complaining about the 10.8mm thickness. The device is said to weigh 223g, and it will feature other radios such as Bluetooth 4.0, GPS, and T-DMB for mobile television in South Korea. The battery is rated at 2,500mAh, and a microSD card slot is included for 32GB of storage. There's no word on how much storage the player will come with as default, but we imagine it'll fall in the 8 to 16GB range.
Interesting, the design looks to be a cross between the Galaxy S III and Galaxy Note 10.1. You have the same white glossy finish and curves as Samsung's flagship handset, while two speaker grills are located at the top and bottom of the device, not unlike the Note 10.1 where similar speakers sit on either side. It also looks like the device will be going with a physical button plus two capacitive buttons, just like the Galaxy S III. There's no word on when Samsung plans to release the media player, but SamMobile speculates that it it may make an appearance at IFA.
[via Android Central]