Samsung Galaxy NX Gets Priced Up For US October Debut
Samsung has priced up its Galaxy NX interchangeable lens Android camera for the US, with the new snapper set to command a healthy premium over previous connected-cameras from the company once it arrives in the US come October. The Galaxy NX – launched alongside the Galaxy S4 Zoom and Galaxy S4 Active – will be priced at $1,599.99 for the body-only, and work with any of Samsung's existing NX-series lenses.
However, Samsung will also be offering the Galaxy NX as a bundle with the 18-55mm zoom lens, for an extra $100. Any of the lenses supported by Samsung's existing NX-series cameras will work on the Galaxy NX, ranging from portrait and landscape lenses through to primes.
No matter which lens you pick, there's a 20.3-megapixel APS-C sensor and Samsung's DRIMe IV Image Signal Processor. Samsung also uses a new, Advanced Hybrid Auto Focus System relying on both phase and contrast detection; altogether, the Galaxy NX is capable of 8.6fps burst shooting and shutter speeds as fast as 1/6,000 second.
Of course, what sets the Galaxy NX apart from other interchangeable lens cameras is the Android OS it runs. On the back there's a sizable 4.8-inch HD touchscreen, which offers up the same finger-friendly TouchWiz interface as Samsung Galaxy S 4 users might be familiar with.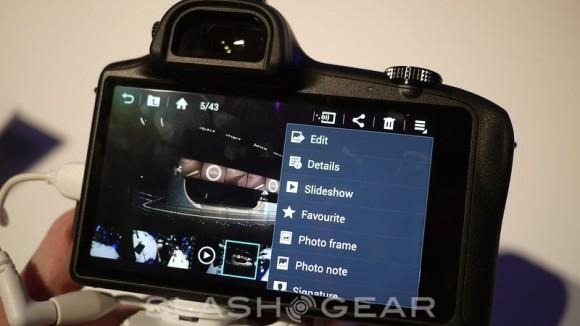 ts
With that OS – and access to the Google Play store – there's support not only for onboard editing of stills and 1080p Full HD video the camera can capture, but social network sharing, email, browser access, and more. Everything is powered by a 1.6GHz quadcore processor and 2GB of RAM, and Android 4.2 gets 16GB of storage and a microSD card slot to spread its multimedia around.
Expectations of a somewhat premium price tag had already been set by UK pricing for the Galaxy NX, which went on sale back in July. Still, it's a departure from the original Galaxy Camera, which took the point-and-shoot as its basis and then factored in LTE and other connectivity.
The Galaxy NX lacks the cellular radio, but does have WiFi a/b/g/n (2.4/5GHz) and Bluetooth 4.0, along with GPS and A-GPS. UPDATE: As confirmed by Samsung, it would appear that this device does, in fact, have the ability to work with 3G and 4G data as well as Wi-fi.