Samsung Galaxy Note LTE revealed for AT&T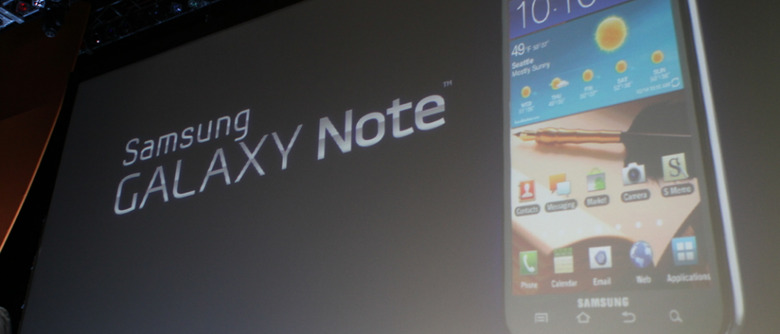 The rumors were true, Samsung and AT&T have just revealed the Galaxy Note – this is a gigantic device, if you've not seen it already, and now with four buttons at the bottom of the display instead of its original single button. This device is now working on AT&T's LTE network, it's had a massive amount of effort has been spent on it to create a whole new device category, halfway between a tablet and a smartphone. This device will be coming in blue and white right at the launch.
We've been waiting for this device for some time now as it's been revealed and reviewed by us in the past in its international edition. That said, it's one unique device to be sure. This newest version has a textured back instead of a smooth one — much closer to the Galaxy S II, mind you, and has a 1.5GHz dual-core processor. It's got a 5.3-inch HD Super AMOLED Screen at WXGA, and it does still have the cool S-Pen.
Have a peek at our review of the original and check us out in a short bit for out first hands-on with this device here in the USA – later today!