Samsung Galaxy Note II tipped for 5.5" screen, September launch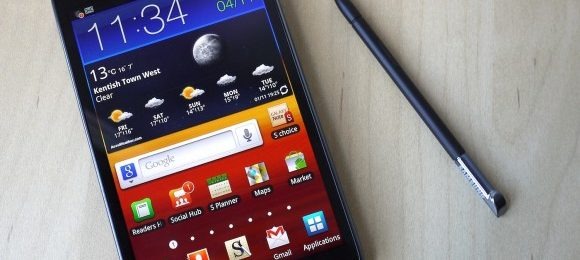 Previous details of the Samsung Galaxy Note II have indicated that the device would feature a larger screen and quad-core Exynos processor. The current Note is already a hefty device with a 5.3-inch Super AMOLED HD display, so it's hard to imagine something even larger without crossing over into tablet territory. GSMArena has heard from a trusted source that the Note II will feature a 5.5-inch display.
That doesn't sound like a drastic increase in size, and GSMArena says that the width of the phone will be reduced compared to the original Note. That could mean that Samsung is planning to a move to a 16:9 screen instead of the 16:10 ratio currently featured on the Note. GSMArena's source also detailed how the Note II will feature a design reminiscent of the Galaxy S III, so we might be seeing an even curvier exterior.
Finally, Samsung will reportedly move the Note II's launch up to September in order to get a head start on the next iPhone, which is expected to be released sometime in October. The original Galaxy Note was released in November, so it makes sense that Samsung would want some room to breathe and accumulate as many sales as possible before the next iPhone hits.
MK Business News previously reported that the Note II will feature a quad-core Exynos processor and an unbreakable plane display that would allow the device to be thinner. Other specs are said to include a 12-megapixel camera and improved build quality.
[via Phone Arena]