Samsung Galaxy Note 7 tipped as GT-N5100 clears testing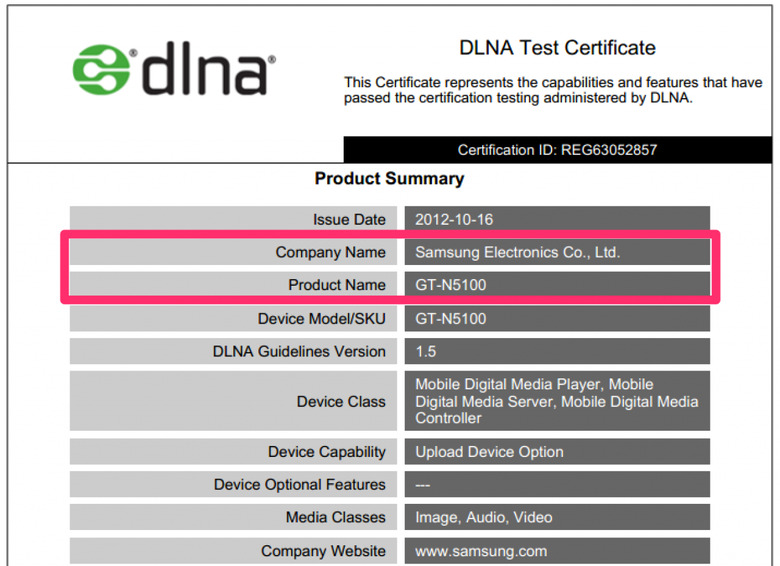 Glimmers of a new Samsung tablet have appeared, with suggestions that the company is readying a new, 7-inch Note complete with more pen-controlled Android. The new model – teased as the Samsung Galaxy Note 7 – has cropped in in two forms at the DLNA Alliance, the Samsung GT-N5100 and GT-N5110, with the same GT-N prefix as sported by the Galaxy Note II and Note 10.1.
The listings for the mystery Samsung gadgets – here and here [pdf links] – aren't particularly enlightening, and nor is the sparse description the Alliance gives. "Galaxy S2 GT-I9100 OS upgrade version derivative model – Icecream Sandwich version – Tablet" is the only hardware detail, the GT-I9100 being the Galaxy S II, but the tablet mention would seem to belie suggestions that it's a simple upgrade.

According to AndroidSlash, there are indications that the GT-N5100/N5110 could be a 7-inch Note to slot in-between the current "phablet" and its full-sized tablet counterpart. That would take on the iPad mini and Nexus 7, though obviously provide pen input unlike either of those rivals.
Interestingly, the GT-5100 also passed through the Wi-Fi Alliance certification program recently as well, though there's some confusion around certification IDs. According to Google's copy of the record, the GT-5100 is described as a "WiFi and other" tablet with WiFi 1/b/g/n (2.4/5GHz) support and WiFi Direct, though the certificate itself [pdf link] is for the GT-T8025, a different tablet.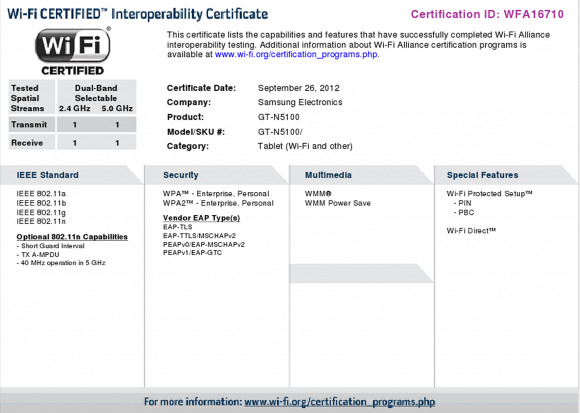 With no record to be found at the FCC, it's hard to know whether the Note 7 would follow in the tablet-focussed footsteps of the Note 10.1, or attempt to be a phone too, like the Note II. The two variants – N5100 and N5110 – could well indicate WiFi-only and WiFi/cellular models for mobile data use.