Samsung's new Galaxy Note 3 and the Samsung Galaxy Gear smartwatch have managed a full gamut of the five top US carriers, further ramping up the pressure on Android rivals like HTC and LG. The new Note 3 "phablet", announced today at Samsung's pre-IFA "Unpacked 2013" event, ramps up the screen size to 5.7-inches and introduces not only new S Pen stylus functionality but a companion wearable in the shape of the Galaxy Gear watch. While reaction to the Gear has been mixed, that hasn't stopped the networks from jumping onboard.
Verizon Wireless has thrown up a pre-registration page for the Note 3 and the Gear, though there's no sign of a release date. Samsung had said during its keynote that the US release of the smartphone would come "later this year", seemingly following on from the September 25 release in 149 countries worldwide.
Samsung Galaxy Note 3 hands-on:
AT&T too has a sparse information page, in addition to noting in a statement that it was "the first U.S. carrier to launch the original Galaxy Note." No such exclusivity this time around, it seems.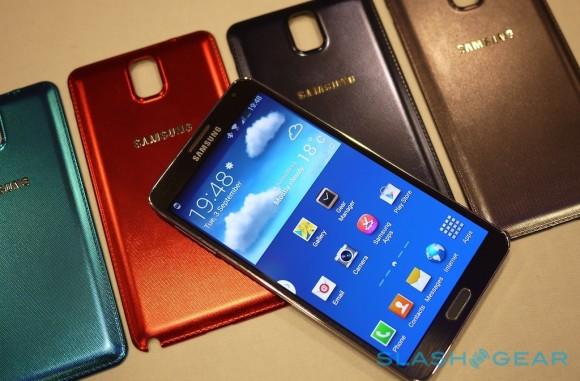 Over at T-Mobile USA, there's not only the promise of the phone and the Galaxy Gear, but confirmation that the smartwatch will be sold separately. No sign of a price, though $299 for the Gear is the current expected figure.
Samsung Galaxy Gear hands-on:
Sprint too has confirmed a Note 3 release, due sometime this fall, though there's no mention of the Galaxy Gear. Yet to comment on the launch, though known to be taking part, is US Cellular.
The broad release echoes Motorola's cross-carrier push with the Moto X, though it's worth noting Motorola didn't actually push its smartphone out onto all of the US networks at the very same time. It remains to be seen whether Samsung can do differently in the US, but it's a testament to the popularity of the Note range that the South Korean company has managed to bypass carrier exclusives.
Whether that popularity will carry over to the Galaxy Gear is also questionable. T-Mobile's decision to sell the smartwatch separately could be a sign that demand isn't expected to be strong; or, indeed, that the carriers aren't convinced that factoring in the cost of subsidizing a niche accessory into what is already likely to be a $299.99-with-agreement phone doesn't make financial sense.