Samsung Galaxy Note 12.2 Rendering Leaks Online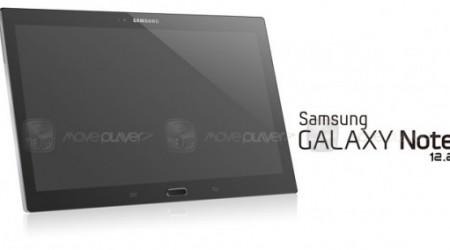 The screens on smartphones have gotten bigger and bigger over the years and tablets are following the same path. For a while, the typical tablet had a screen around 10-inches. It wasn't long before smaller tablets were unveiled and there are some tablets with screens larger than 10-inches on the market today. A rendering of a tablet claimed to be the Samsung Galaxy Note 12.2 has leaked online.
As you can probably figure out, the 12.2 in the product name hints that it has a 12.2-inch display. If true, it would make for an impressive tablet for movie watching, but might make a rather bulky device to take with you on the go. Sources claim that the device will carry model number SM-P900 and is set to be released in the second half of 2013.
The tablet is tipped to be S Pen-enabled and run the Android operating system, as you would expect from anything in the Galaxy line. The rendering shows a big-screen device with a physical home button along with a couple of virtual buttons for other functionality. Perhaps the most interesting part of this rumored tablet comes with the screen resolution.
The tablet is tipped for a resolution of 2560 x 1600. That resolution is typically reserved for massive 30-inch desktop displays. We are taking this with a grain of salt for now considering that it's a rendering of the device and not an actual photo. However, Samsung has been rumored to be working on a large 12-inch tablet in the past so were not ready to call BS just yet. Perhaps the official announcement for this tablet will come this week during IFA.
SOURCE: Android Community