Samsung Galaxy Note 10: Release with Pink Edition for August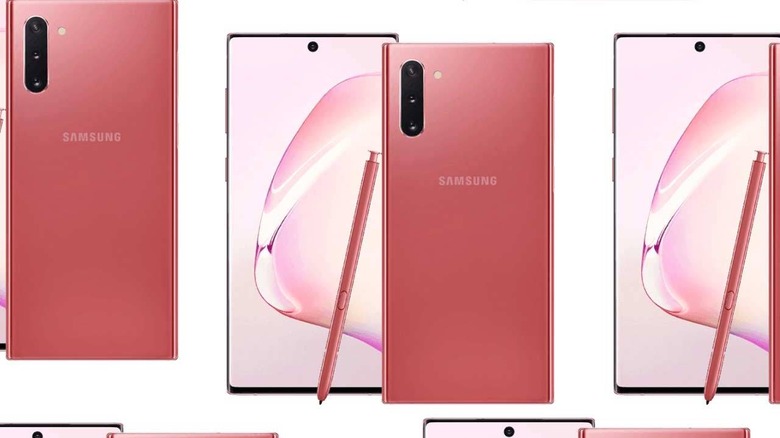 The latest leak of the Samsung Galaxy Note 10 includes a Pink Edition for the masses. It's not yet known how many colors will be made available at the launch of this smartphone – but chances are there'll be more than just two. I say "just two" because for some countries, that's all there were at the launch for the Samsung Galaxy Note 9.
Today's leak is included in the gallery below. This shows the WinFuture leaked version of the Galaxy Note 10, in its smaller iteration, with pink up front, around back, and all across its S Pen. It's fun to see wild color variations in the various elements of the smartphone, like the Blue version of the Galaxy Note 9 with its bright YELLOW S Pen. It's also fun to see Samsung move to a sort of monotone execution with this Pink variation.
At this time it's not clear whether the Pink version will be available for the Galaxy Note 10 and Note 10+ (Plus), but it's fairly obvious that the Pink WILL adorn at least the lesser of the two. The versions we've seen before now include White, Silver, and Black.
We'll also likely see a release with a sort of multi-color execution, called something along the lines of "Pearl." Have a peek at the gallery above to see the Pink, then down below for more variations. These images were all leaked before the big event that'll be held by Samsung next month.
The event at which the Galaxy Note 10 is almost certain to appear via Samsung for the first time officially is August 7, 2019. We'll be there with our eyes and hands on the device(s) available to us, and you'll see some up-close and personal imagery, video, and details aplenty.
If no majorly unforeseeable events happen before the turn of the month, we also expect that the Galaxy Note 10 release date will be August 23, 2019. That'll be true of several major countries, give or take a day, for both the Galaxy Note 10 and Galaxy Note 10+. See the timeline of links below for additional pre-official leaked details!