Samsung Galaxy Note 10.1 Gets Thumbs Up From iFixit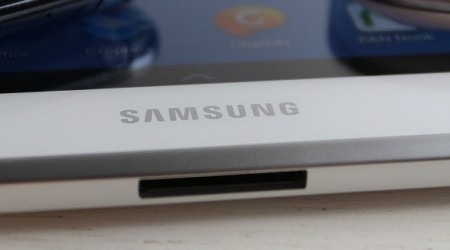 iFixit is always busy tearing apart the latest devices in order to determine what components lie beneath, but the firm has criticized Apple products (like the Retina MacBook Pro and new iPad) for their low repairability. How about products from other companies? The team have taken their tools to the Samsung Galaxy Note 10.1, giving a full list of what lurks underneath the chassis and determining that it has a high repairability score.
Samsung has packed quite a lot of tech inside the Note 10.1, including an Exynos 4 Quad processor clocked at 1.4Ghz. In order to accommodate S-Pen input, the touchscreen makes use of a Wacom W8008 digitizer, with an Atmel mXT1664S used as the touchscreen controller. A Wolfson Audio WM1811AE is used for audio duties, and Samsung has included its own NAND chips for storage.
iFixit notes that it's easy to get inside the device, with lots of connectors used for components, indicating good repairability. While a fair number of cables have to be removed, the battery can be user replaced, with capacity coming in a 7,000mAh. iFixit also praises the EMI shields used in the Note 10.1, saying that they employ regular screws instead of being firmly attached. Better yet, they double as heatsinks for the components.
Finally, the dock connector can be replaced with relative ease, and iFixit says that the front glass and LCD can be removed and replaced individually. The firm gives the Note 10.1 an 8/10 for repairability as a result, a stark contrast to the 2/10 they awarded for the third-generation iPad. Apple's tablet scored lower due to the difficulty in accessing components, with the battery also glued to the chassis to prevent removal.
[via 9to5Google]