Samsung Galaxy Note 10.1 Eyes-on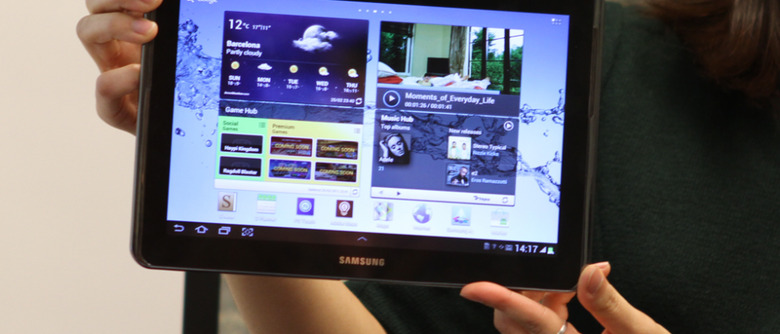 Building on the success of the first Galaxy Note, Samsung presents this 10.1-inch tablet with S Pen creativity built in. This device has a 10.1-inch 1280x800 resolution PLS TFT display, Android 4.0 Ice Cream Sandwich, 1.4GHz dual core Samsung Exynos processor, and microSD support. With both Full HD video playback, and Wifi CH bonding for superior connectivity, you'll be rolling out with the 8 Pi S Pen with great success on the largest S Pen capable display yet. The Galaxy Note 10.1 also has a 3 megapixel camera on the back with LED flash and a 2 megapixel camera on the front.
The software allows for a full range of templates for notes including magazine, diary, card, sketchbook, and more, and the Note 10.1 uses its large screen to utilize multi-screen functionality. This device has cross language as well as formula recognition (for math and science) and is able to convert shapes to lines. Essentially this and the Galaxy Note are bringing the fury to the note-taking world with recognition of just about anything you could want them to know about. Samsung's TouchWiz interface sits over Android 4.0 ICS with Samsung Live Panels intact.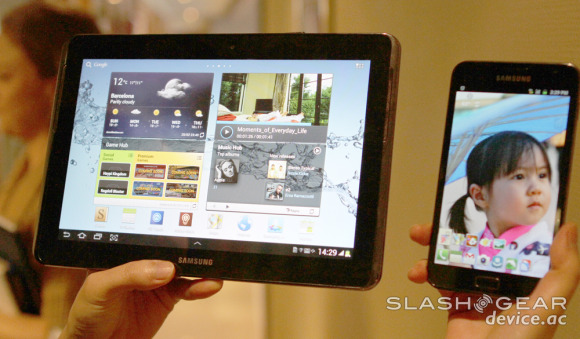 Both Adobe Photoshop Touch and Adobe Ideas apps are pre-installed on this device, your ability to use various tools, effects, layers, and full pen pressure sensitivity now at your fingertips. Draw with vectors, utilize layers, and access the full personal pen Photoshop experience all in one device. The 10.1 Note has Samsung Hub services as well as S Pen Apps as the original Galaxy Note does, S Suggest, Readers Hub, Video Hub, Game Hub, Music Hub, and Chat On amongst them. S Pen Apps include such classics as Slice It! and Comic Book as well as Catch Notes, Touchnote, and Hello Crayon. Each of these apps will be available inside Samsung Apps for the release of the device.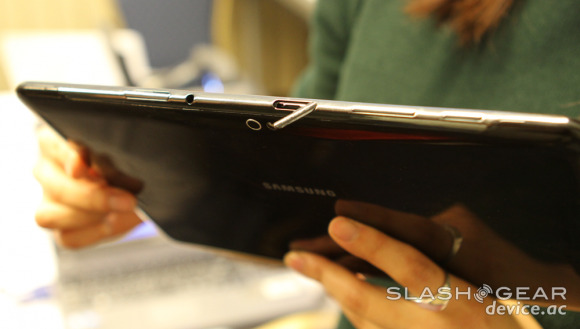 The Galaxy Note 10.1 has been created for Creative designers, students, kids, and business professionals alike, and will be coming in 16, 32, and 64GB versions with a microSD card slot capable of accepting another 32GB worth of space. You can take notes, read textbooks, do multimedia editing, design and illustrate graphics, and make presentations and documentation with great ease. This device is very similar in size and shape to the Galaxy Tab 10.1 and the Galaxy Tab 2 10.1 and includes front-facing speakers not unlike the Samsung Galaxy Tab 10.1N.