Samsung Galaxy J7 (2017) renders shown off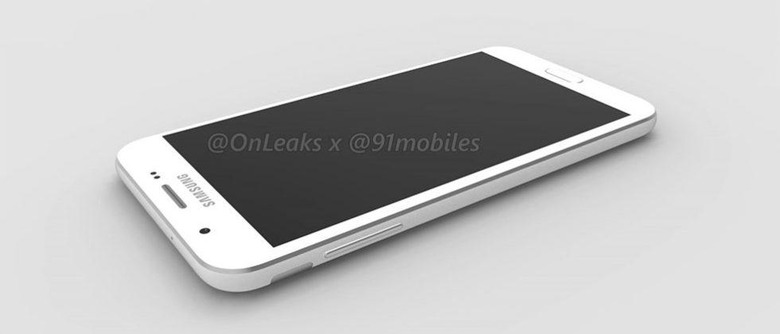 If you are the sort of smartphone user who only really cares that the device works for calls, texts, and the occasional Facebook when the boss isn't looking and doesn't like to be stuck to a long contract with high monthly rates, a cheaper more mediocre phone might be for you. Samsung has a new Galaxy J7 (2017) in the works and some renderings have leaked. Those renderings show a device that looks rather premium while presumably being much cheaper than the Galaxy S line of devices.
The leaked renders are of the Galaxy J7 (2017) and it reminds me a lot of the old Galaxy S5 I carried at work for a while. The Galaxy J7 (2016) launched back in July of this year and was a solid enough mid-range device and it appears that a new version is in the works. It's unclear if these renderings were leaked from Samsung or if some fan simply cooked them up to share.
The colors used in the renderings are speculative as well, but white, silver, or black are likely colors. Wherever the renderings are from, the device is attractive with a flatter back than the 2016 version and a visible speaker grill on the top above the power button. The rear of the phone has a metallic appearing panel near the top where the camera sensor hides, it's an attractive look.
The renderings do show a headphone jack, something some high-end phones are starting to go without. The front of the phone shows a physical home button that isn't expected to offer a fingerprint reader. Specs are tipped to include a 5.5-inch screen in full HD AMOLED flavor and measurements are said to be 51.34 x 76.20 x 8mm. Chipset is tipped as a octa-core Qualcomm or Exynos unit with 3GB of RAM and 16GB of storage.
SOURCE: 91mobiles