Samsung Galaxy Fold video leaves us wanting more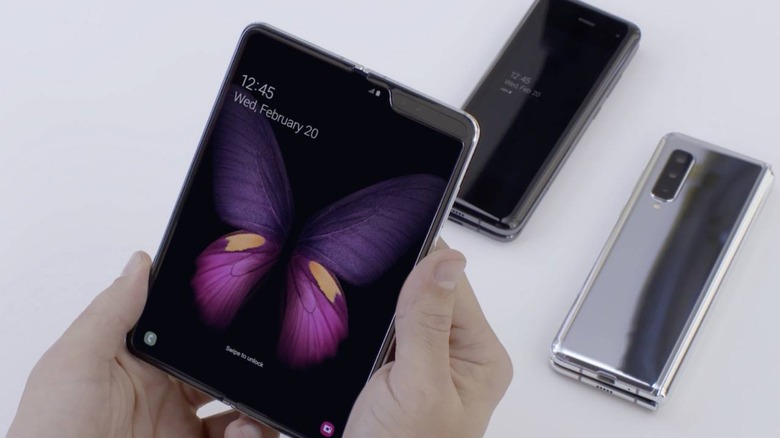 Samsung beat rivals to the punch unveiling its Galaxy Fold smartphone, and by giving the foldable handset a specific release date, but opportunities to actually try the device out are still in short supply. While we wait for Samsung to unlock the box and give us a taste of what foldable phone life might be like, the company has released a host of new video running through the Galaxy Fold's features.
The footage is light on technical details but heavy on glossy imagery of the smartphone. If you've been wondering how the Galaxy Fold looks from all angles, or how it sounds when you open and close it, now's your chance.
Certainly, it's a handsome smartphone. The sci-fi factor of a device that folds down the center – without breaking in the process – still hasn't lost its charm. That's even if the proportions are a little strange when the Galaxy Fold is closed up.
Then, you're left with the 4.6-inch cover display, which – like the smartphone itself – is tall but narrow. You can still interact with apps that way, as you can see in the video where Google Maps still supports pinch-zooming and other navigation, but we suspect things like text entry are going to be less fun. Still, for glancing at your email, incoming messages, and caller ID for phone calls, it's more than enough.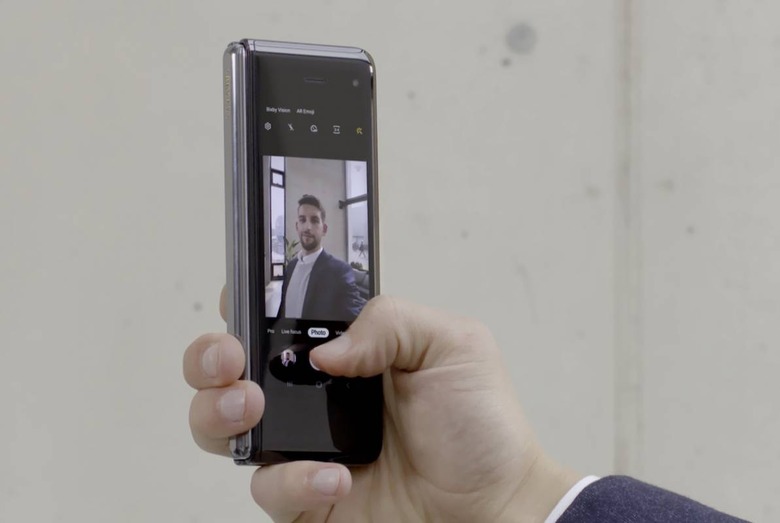 Opening up and finding the 7.3-inch QXGA+ touchscreen is the real meat of the Galaxy Fold, though. It falls somewhere in-between a large smartphone like the Galaxy Note 9 and a small tablet. Samsung splits its battery into two, putting a power back on each half of the phone: together, you get 4,380 mAh, which the company suggests will be enough for a day's use.
There's fast charging for both wired and wireless connections. Samsung also included Wireless PowerShare, as we saw on the new Galaxy S10 range. That allows you to turn the Galaxy Fold into a wireless charging mat, for recharging other phones or – more likely – accessories like the new Samsung Galaxy Buds.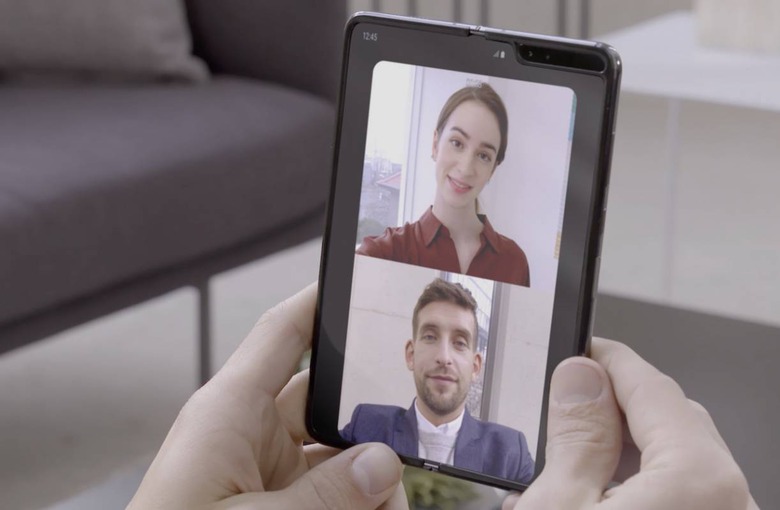 Then there are the cameras, and Samsung has fitted a total of six. There's a 10-megapixel, f/2.2 cover camera for selfies, above the external display, while on the back there are three cameras. As on the Galaxy S10, you get a 16-megapixel f/2.2 ultra-wide camera, a 12-megapixel wide camera with Super Speed Dual Pixel AF, OIS, and switchable f/1.5/2.4 lens, and finally a 12-megapixel 2x optical telephoto, with OIS and f/2.4.
Inside, in a notch in the upper corner, there's a 10-megapixel, f/2.2 camera. Next to that is an 8-megapixel RGB camera that Samsung uses for depth sensing.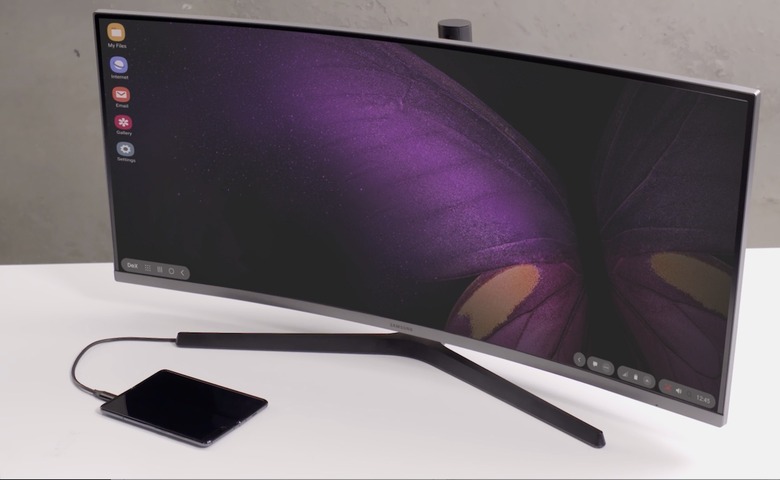 One of the features Samsung didn't particularly touch upon at its launch event last week for the Galaxy Fold is DeX. As per other recent Galaxy handsets, you can plug the Galaxy Fold into an external display or TV – using a USB-C to HDMI adapter – and have it drive that with a special desktop interface. Arguably the Galaxy Fold will be the best device to do this with, too, since it pairs its octa-core processor with a hefty 12 GB of memory along with 512 GB of storage.
As for how all this works together in practice, for that we'll have to wait. There's not long to go, mind. Sales of the Galaxy Fold in 4G LTE form kick off on April 26, priced at $1,980, with the 5G version following on later in the year.