Samsung Galaxy Exhibit brings Galaxy S III Mini to T-Mobile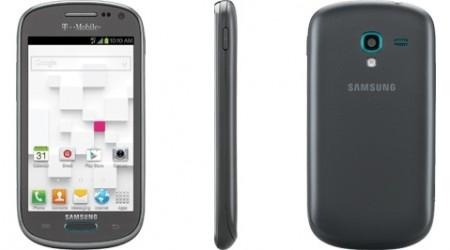 While the Samsung Galaxy Exhibit may look to be a brand new smartphone – complete with fancy blue accents – coming to T-Mobile this week, it's actually an ever-so-slightly modified version of the Samsung Galaxy S III Mini. This device takes what the Galaxy S III Mini (not the S 4 Mini, mind you), was as it was released internationally last year with Galaxy S III style and gives it a slight bump, bringing a bit more of the Samsung Galaxy Axiom 4G LTE to party with the pink carrier.
Oddly, this version of the device does not come with quite as fine a build as the Axiom, that device having been released with US Cellular. Here instead of a 1.2Ghz dual-core processor you get a 1Ghz dual-core processor, and this time it's a NovaThor-made SoC. The back of this device does still have a 5 megapixel camera, on the other hand, and a microSD card slot able to carry up to 32GB cards.
Inside you'll find Android 4.1 Jelly Bean while the machine is able to work with 4G, but not quite LTE, radio bands. This device is also prepared to come in at the bottom level for budget-minded users, appearing with one of T-Mobile's special monthly payment plans at $19.99 down and $9 more per month for 2 years. This device is also available for a straight-up one-time price of $235.99 – not half bad if you're not comparing it to the Google Nexus 4.
So while it may look it, this machine is not truly the Samsung GALAXY S 4 Mini that we're likely to see early next month. That machine is prepared to take on a form of its own, working with specifications that more closely resemble that of the Galaxy S III with a body that's closer to the GALAXY S 4. And the whole Samsung Galaxy family will live happily ever after!
SOURCE: T-Mobile