Samsung Galaxy "Alpha" A300 makes its way through TENAA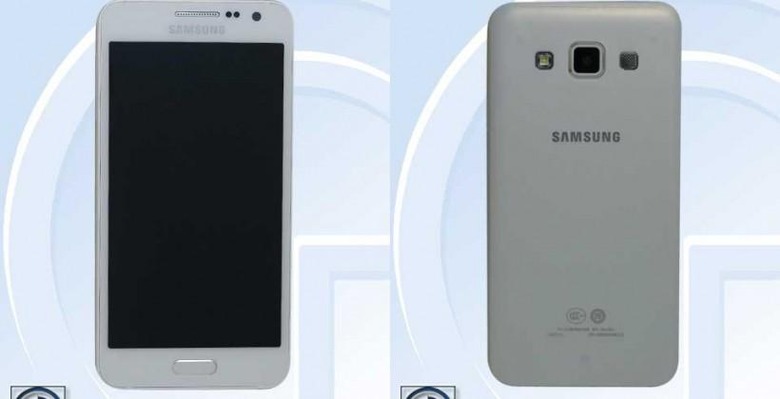 Continuing the train of leaks and rumors about the Galaxy Alpha family, we are now getting a glimpse of what could be the smaller, and likely cheaper, of them all, currently identified as the SM-A300. Luckily for us, this smartphone has popped up at Chinese certification TENAA, giving us a bit more detail about this supposedly metal-bearing budget smartphone.
Calling it metal might actually be a bit of a stretch. The latest rumor about the other member of the family, the SM-A500, says that the material used will be neither metal nor plastic, but something that is as cheap as plastic but seemingly premium as aluminum. The SM-A300 might very well follow in that design, especially if it's poised to be a cheaper alternative.
And it won't be cheaper because of the material alone. The specs are also considerably lower, based on the TENAA sheet. The display is measured at 4.52-inches with a qHD resolution of 960x540 pixels only. It will be powered by a 1.2 GHz quad-core processor paired with 1 GB of RAM. Internal storage is capped at 8 GB though thankfully there's a microSD slot available for an additional 64 GB. Cameras are pegged at 8 and 5 megapixels for rear and front, respectively, making it a decent shooter, especially for selfies.
In contrast, the SM-A500 has a larger 5-inch 720p screen, a 1.6 GHz quad-core Snapdragon 400, 16 GB of internal, still unknown RAM size, and the same pair of camera sensors. In other aspects, the two seem to be quite similar, especially with the Android 4.4.4 OS running inside it. That hopefully also means that the same LTE connectivity expected for the A500 makes its way to the A300, making it a very interesting budget option.
Although TENAA entries are more informational than their equivalent FCC filings, it still doesn't answer the questions of when and where, only that they might be coming really soon. We also have yet to hear about the last unknown member of the set, the SM-A700, which hopefully won't turn out to be a 7-inch tablet or one of Samsung's enormously huge 7-inch smartphones.
SOURCE: TENAA